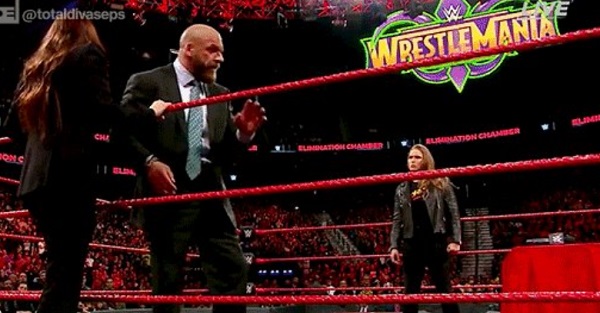 twitter/TotalDivasEps
Ronda Rousey was at WWE's Elimination Chamber show on Sunday night, with the expectation that she would publicly sign a WWE contract.
That situation quickly escalated, though, as Rousey was given more than a contract: she was given a match at WrestleMania 34 in New Orleans… something that Rousey didn't expect, apparently. (storyline, guys!)
Sensing that something was up, Rousey asked those in the ring — Triple H, Stephanie McMahon, and Kurt Angle — what was up and Angle spilled the beans: that Triple H and Stephanie had brought her to WWE to manipulate her.
After a war of words and some stare-downs, Rousey put Triple H through a table and scared off Stephanie right before she signed her official contract.
Rousey vs. Stephanie at WrestleMania? Or Rousey and Angle vs. Stephanie and Triple H? Either option is fun, and it will be nice to finally get a look at how Rousey does in a WWE ring.