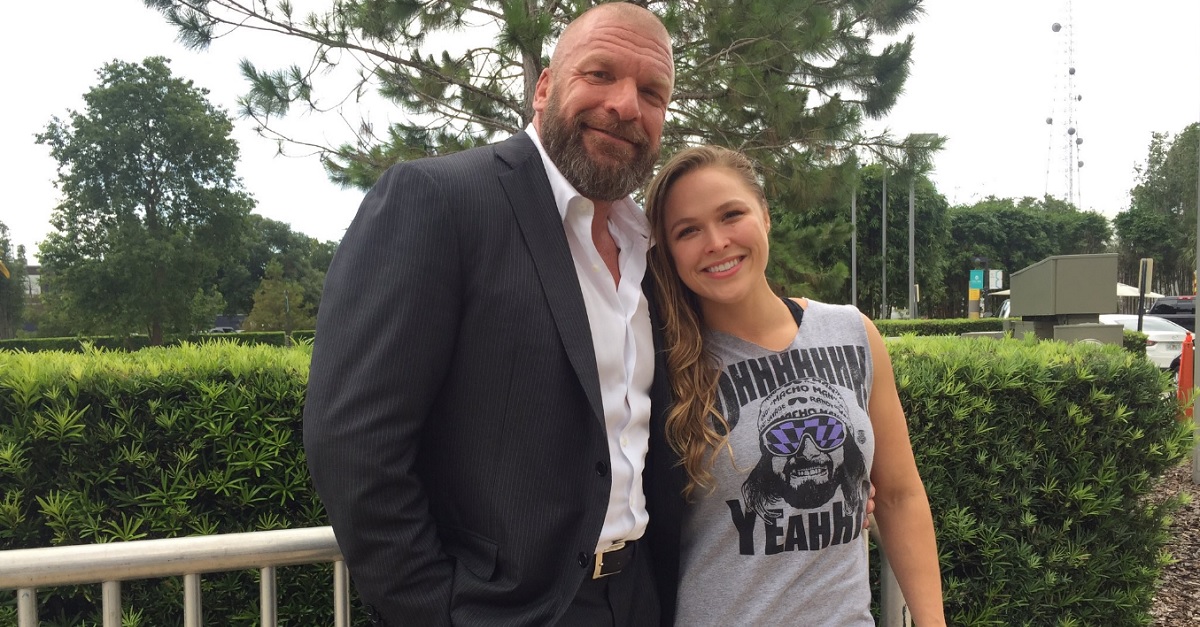 Triple H/Twitter
Triple H/Twitter
Ronda Rousey is one of the biggest stars in the history of women's MMA, and she has been long rumored for a jump to WWE. One of the places speculated for that jump has been at the Royal Rumble this Sunday, where WWE will hold their first ever women's Royal Rumble match.
On Wednesday, WWE executive Paul "Triple H" Levesque addressed Rousey's WWE status, stating that the two were still working on an agreement and had not actually reached a decision.
Levesque made the statement during his usual monthly conference call, but the comments are interesting as Dave Meltzer of the Wrestling Observer has been reporting for months that Rousey has been training at the WWE Performance Center for a while in effort to eventually work for the pro wrestling company. Meltzer has also speculated that Rousey could debut in the women's Royal Rumble match, which would make sense with how much the WWE is pushing the history behind the match.
Rousey has previously run angles with WWE, having previously appeared at WrestleMania 31 in a segment with the Rock. Rousey also appeared in a YouTube video featuring her friends — dubbed the "Four Horsewomen" — against WWE's four Horsewomen of Charlotte Flair, Becky Lynch, Bayley, and Sasha Banks.
Rousey is the former UFC women's bantamweight champion. Rousey became one of the biggest stars in UFC during her undefeated streak, which was eventually broken by Holly Holm at UFC 193 in Australia.