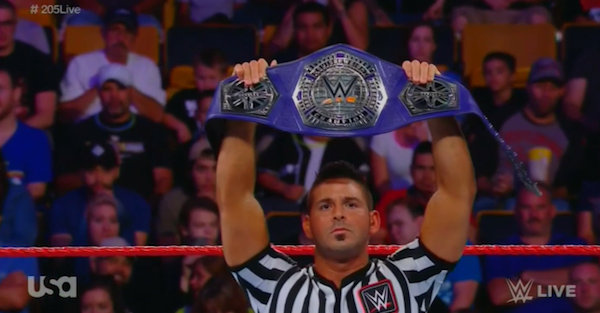 WWE Network screenshot
WWE/Screenshot
Kalisto sent out the following tweet over the weekend, appearing to show the Cruiserweight Championship with a black strap instead of the traditional purple the division has had since the decision to bring the belt back.
Later Monday night, WWE sent out the following, showing the strap has not changed:
Here's the Lumberjack match from last week where Kalisto defeated Enzo Amore for the Cruiserweight title.
During the Cruiserweight Title match, Enzo's beef with the 205 Live roster was on full display as he taunted the lumberjacks who stood on the outside of the ring. Enzo and Kalisto fought it out and in typical lumberjack fashion, there was a break down outside of the ring.
Back in the ring, Enzo appeared to get a pinfall but Mustafa Ali pulled Enzo out of the ring and those two start fighting.
As Enzo, clearly dazed went back into the ring it was Kalisto who got the chance to hit the always thrilling Salida Del Sol and got the pinfall, becoming the new Cruiserweight Champ. The era of Enzo is over.