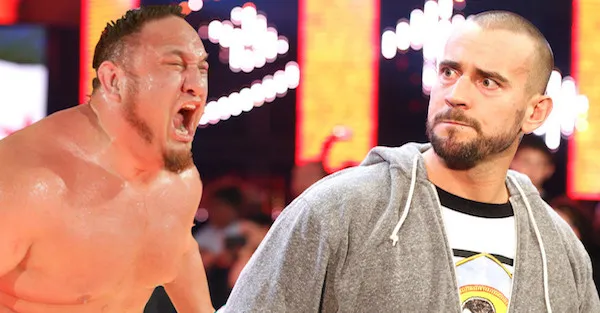 WWE Universal title contender Samoa Joe is enjoying his run at the top of the card with WWE. He's one of the most established stars on the ever growing roster, seeing success across the independent scene before making his way to WWE.
And when it comes to former independent darling CM Punk's potential, eventual return, Joe won't rule out a WWE return, according to the Sun:
"You never know with Punk. He is definitely somebody who does things his own way and I think the biggest thing is that you can never count out what his next move will be.

"I think no one would have predicted his move to UFC, nobody would have predicted a lot of things he does, so whatever he chooses to do, he will do what feels best in the moment."
Punk's public exit
Punk very publicly left the company after the 2014 Royal Rumble, and the two sides have been at odds since.
This came to a head in November of 2014, when Punk accused WWE of medical malpractice after he alleges that had been working with a staph infection in late 2013.
A.J. Lee's tell-all
Following a tumultuous run in WWE, Lee alleges in her new book, 'Crazy is My Superpower: How I Triumphed by Breaking Bones, Breaking Hearts and Breaking the Rules," a WWE executive told her she was "unf***able and ugly."
The eventual wife of CM Punk, quickly rose to WWE fame during her romantic storyline with Daniel Bryan. Following her run as the girlfriend of Bryan, and his eventual loss at WrestleMania, Lee became a permanent fixture in the rivalry involving Punk, Kane, John Cena and Bryan:
She developed a true personality, rapidly shifting moods and causing all kinds of chaos on her way to the Raw General Manager role.
Lee bounced around after the general manager gig, managing Dolph Ziggler before going back off on her own in the women's division.
She would eventually become the longest-reigning Diva's champion in the organization's history.
Easily her biggest accomplishment had to come at the end of her WWE run in response to Stephanie McMahon on Twitter:
Lee would retire just a few months later following her WrestleMania 31 appearance.
Punk speaks on whether he misses WWE
Punk continues making headlines outside the squared circle and the octagon, and, in an interview with ESPN Radio, Punk opened up about his pro wrestling past back in mid-July.
Via WrestleZone:
"When he was asked whether there is any part of him that misses pro wrestling he said, "Not at all." He went on to say that WWE has been sending lawyers and proxies after him because he, "Called them on their BS."

"As far as another fight in UFC goes he noted that he has not spoken with Dana White in several months but he does want to fight again. He said that he will know in another month or two if he is going to have another UFC fight."
Punk's latest endeavors
Punk eventually decided to start training in mixed martial arts, and he debuted last year at UFC 203 in a first-round loss to upstart Mickey Gall. It is unknown if Punk will fight again for UFC. He also had an appearance on MTV's "The Challenge."
In WWE, Punk was a four-time world champion, and he has the longest WWE Championship reign in "modern" history at 434 days.