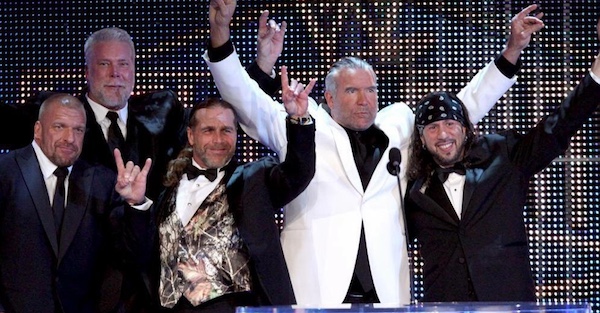 Shawn Michaels/Facebook
Shawn Michaels/Facebook
Scott Hall might be wrestling in a WWE ring for the first time in 16 years. At least, that is what Hall said on an edition of his friend X-Pac's podcast.
"I just got a text from the office that said, 'Please bring your ring gear.' I said, 'Are you ribbing me? You're going to tell me like three or four days in advance, ya know?' Give me a little notice and for the right money, I'll have abs showing. I said, 'Now, how about I bring what I wear to appearances?' I've got gimmick street clothes. But I think we're going to have a rematch, so I'm just giving you a heads up. I think it's about time I went over."
It is hard to tell if Hall is joking in terms relative to the story. After all, he's talking about how he's earned the right to "go over" another retired wrestler.
While it has been reported that he would indeed show up for #Raw25, there have been no reports that he'd actually wrestle. Furthermore, even if that is exactly how the text went down, it doesn't inherently mean he is going to be in a wrestling match.
The last time Hall was in a WWE ring, in any shape or form, was at WrestleMania 31 in San Jose, when Hall ran in with the nWo during a match between Sting and Triple H.
Even if he doesn't compete, it will be interesting to see if Hall portrays Razor Ramon or his nWo character at the milestone edition of Monday Night Raw.
The 25th Anniversary show takes place at two New York venues; the Barclays Center and Manhattan Center, the site of the first episode of Raw.