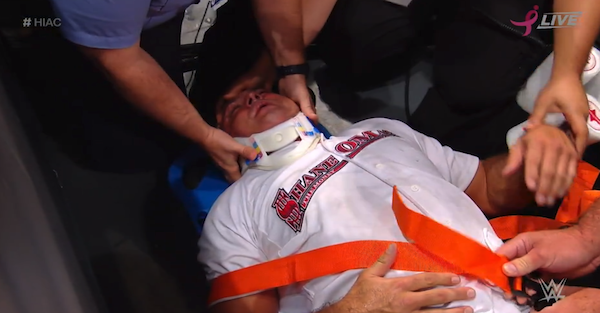 WWE Network screenshot
Shane McMahon took his antics to an entirely new level Sunday night at Hell in a Cell, and he's apparently paying for it.
According to WWE.com, McMahon is dealing with "multiple injuries," including neck trauma, fractured ribs and a dislocated shoulder.
After fighting in the ring and hitting a Coast 2 Coast, McMahon cut his way out of the Hell in a Cell structure, and made his way to the top of the cell. He and Kevin Owens battled it out in a nerve-racking few moments, where the top of the structure buckled on impact.
As they made their way down the side, McMahon sent Owens backwards through the announce table off the side of the cell.
Instead of covering him, McMahon positioned Owens on a separate announce table. The Smackdown Live GM made his way back to the top of the cell and came crashing down through the table as Sami Zayn moved the former Face of America just in time.
Zayn then rolled Owens onto McMahon for the pinfall and victory.
Back at WrestleMania 33, McMahon leapt off the top of the cell in an absolute war against the Undertaker.
McMahon went on to lose that match as well after falling through the table.