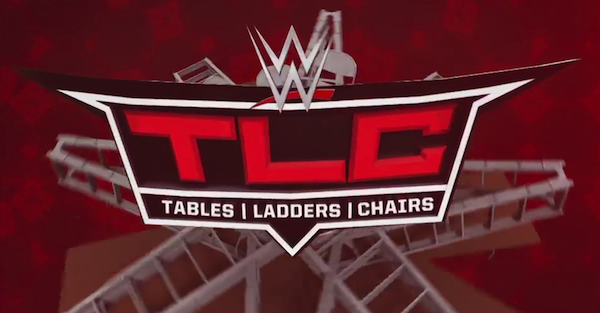 WWE Network screenshot
WWE Network screenshot
WWE TLC will broadcast live from the Target Center in Minneapolis, Minnesota on Sunday at 8 p.m. ET on the WWE Network.
WWE Tables, Ladders and Chairs 2017
The event will be exclusive to the RAW brand and will be headlined by a 5-on-3 handicap match, which will include the in-ring return of WWE Hall of Famer and current RAW GM Kurt Angle, who will replace Roman Reigns alongside his recently reunited Shield brethren Seth Rollins and Dean Ambrose against The Miz, Cesaro, Sheamus, Braun Strowman and Kane.
Here's a preview of what to expect at this year's TLC event.
Sasha Banks vs. Alicia Fox
Alicia Fox has been consistently featured on RAW in recent weeks and has revived her "crazy" gimmick. Also, she's apparently finally been given a t-shirt after more than a decade with the company. But her inclusion in the TLC preshow is likely to only be a reason for Sasha Banks to have an opponent at the pay-per-view with two separate women's matches already booked.
Winner: Sasha Banks
This is a preshow match so it shouldn't really build to any surprising outcome. Banks will win and continue gaining momentum on her way back into the RAW Women's title picture.
Asuka vs. Emma
Undefeated former NXT Women's champion Asuka makes her main roster debut at TLC against social media guru Emma, who earned her way into this bout by winning a Fatal 5-way match earlier this month.
Winner: Asuka
This shouldn't be anything more than a glorified squash. Perhaps Emma will get some early momentum, but this will likely be a dominant first win for the "Empress of Tomorrow."
Cedric Alexander and Rich Swann vs. The Brian Kendrick and Gentleman Jack Gallagher
Gentleman Jack Gallagher recently aligned himself with former rival The Brian Kendrick to wreak havoc on the cruiserweight division. During that span, his biggest target has been Cedric Alexander. But Alexander has an ally of his own in Rich Swann, who picked up a victory over Gallagher via DQ on 205 Live this week.
Winner: Cedric Alexander and Rich Swann
I feel like Alexander is on the cusp of being a top babyface on 205 Live, especially with his performance in the No. 1 contender's match that saw Enzo Amore capitalize on his three pinfalls. In order to keep momentum on his side, Alexander and Swann need this victory.
WWE RAW Women's Championship
Alexa Bliss (c) vs. Mickie James
Alexa Bliss has extended her dominant reign as RAW Women's champion to 52 days. Mickie James has earned her way into the title picture, which is the most prominent role she's played since returning to WWE full time in December of last year.
Here's the sparknotes on this feud — James is a decorated former champion from her previous stint with WWE and Bliss has repeatedly made fun of her for "being old."
Winner: Alexa Bliss
Bliss will likely continue to hold the Women's championship until Asuka is built up enough to take her down. Until then, James may only be used as a transitional rival for the champion, though the match itself should be booked closely.
WWE Cruiserweight Championship
Kalisto (c) vs. Enzo Amore
Enzo Amore has single-handedly made the cruiserweight division more relevant just by being a part of it. The cruiserweights have had several main event segments on RAW since the "Realest Guy in the Room" inserted himself into the division.
However, WWE decided to go with a sudden title change and put the strap on Kalisto, one week after he joined the division. Will the luchador's reign extend or will "Muscles Marinara" find a way to reclaim his title?
Winner: Enzo Amore
I have no idea why WWE went with a title change so quickly after Amore's initial win, but I predict they make up for it on Sunday. Enzo defeats Kalisto in heel fashion and once again makes the division worth following.
"The Demon" Finn Bálor vs. AJ Styles
Apparently there's some kind of illness going around the RAW locker room because Bray Wyatt — like Reigns — will miss Sunday's event. That means we won't get the Demon-Sister Abigail match in which Wyatt was supposed to be dressed up as his "sister."
Instead, fans will be treated to an inter-promotional match between Bullet Club's first two leaders as Finn Bálor — in the Demon persona — will take on AJ Styles. There isn't any buildup to this match considering it was announced two days prior to the event.
Winner: "The Demon" Finn Bálor
Though Styles is arguably still SmackDown Live's top babyface, it's hard to invision WWE booking Bálor's "Demon" to lose so soon, especially considering this is a RAW exclusive event. But that shouldn't make the match any less enticing as the two will likely put on a clinic, especially if given the proper amount of time to do so.
5-on-3 handicap Tables, Ladders and Chairs match
Kurt Angle, Dean Ambrose and Seth Rollins vs. The Miz, Cesaro, Sheamus, Braun Strowman and Kane
The long-awaited in-ring debut of the Shield as a trio will have to wait. Apparently, Reigns also suffered an illness this week and will not be able to compete at TLC. Instead, Angle will make his official in-ring return since leaving the company in 2006. While many expected the GM to eventually return to the ring, his inclusion in Sunday's main event is much sooner than anticipated.
Like the Bálor-Styles match, the addition of Angle was announced two days before the event, however, makes more sense considering his involvement in the storyline as the GM who initially booked a 5-on-3 match.
On the other side, Miz and his cronies have been feuding with the Shield members for weeks. Sheamus and Cesaro lost the RAW tag-team titles to Ambrose and Rollins at SummerSlam while Miz and Strowman have both remained involved with Reigns.
Also, Kane — taking a break from his run for Knox County (Tennessee) mayor — made his return to RAW on Monday by helping Strowman defeat the "Big Dog" in a cage match to earn "Team Miz" a 5-on-3 advantage and was announced as the group's final member
Winner: Kurt Angle, Dean Ambrose and Seth Rollins
Though I can see how a 5-on-3 disadvantage would be the only logical way to have the Shield lose, I don't see WWE having planned that outcome for the group's first match back together. The same thing goes for replacing Reigns with a now WWE Hall of Famer who hasn't competed in a match for the company in more than a decade.
Inserting Angle into the match is the only way that it can be anywhere near as big of a deal as being the first official Shield reunion match, which means the outcome still favors the babyfaces. Despite the disadvantage, Ambrose, Rollins and your Olympic Hero will likely prevail.