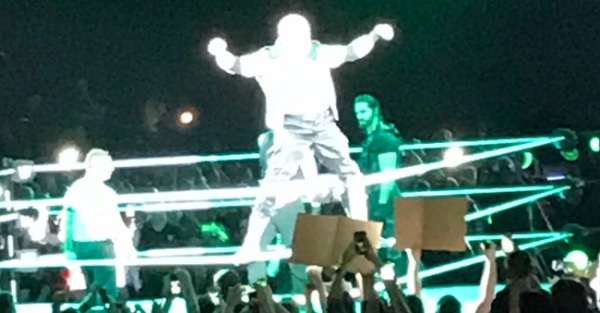 Kenny McIntosh/Twitter
Well, we can file this one under the "Wait, WHAT?!?" file.
During WWE's stop in Glasgow on Wednesday, Triple H joined the Shield (Seth Rollins and Dean Ambrose) for a tag team match against Bray Wyatt, Cesaro and Sheamus.
Triple H even wore the trademark Shield tactical vest for the match.
Triple H is on the tour to fill in for Roman Reigns, who is still ill from a viral infection that also kept Bo Dallas and Bray Wyatt out of action for a few weeks. However, most people probably didn't expect that Triple H would literally fill in for Reigns as part of the Shield, as in WWE storyline, Triple H has been against the members for the Shield for a couple of years now.
Nonetheless, WWE is out there to entertain the fans, and getting to see Triple H actually team with Ambrose and Rollins? That had to be a sight to behold.