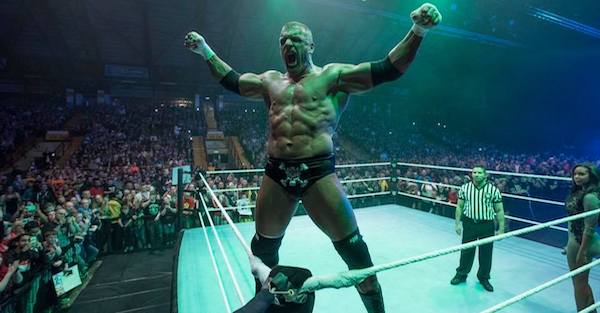 TripleH/Facebook
TripleH/Facebook
Dwayne "The Rock" Johnson and WWE COO Paul "Triple H" Levesque shared one of the best feuds in WWE history.
The two superstars were crucial to the Attitude Era's success, with Rock serving as "The People's Champion" babyface and Triple H as a ruthless heel antagonist.
It's been more than a decade since the two legends have shared the ring for an actual match, although their last encounter took place during a segment that also involved Levesque's wife Stephanie McMahon and former UFC Bantamweight champion Ronda Rousey at WrestleMania 31. But the former world champion turned executive doesn't want it to end there.
?About two years ago, he and I did a backstage promo with each other where we talked about WrestleMania, and the competitive nature of it and it lit up the internet about the possibility of it," Levesque said during an interview at the Mumbai Facebook office on Facebook Live. "It's something we've discussed. It's just making schedules work, he's pretty busy I am too. But hey, right place, right time? I'll dance one more time with The Great One, Rock.?
Johnson, who left WWE full-time to pursue a career in acting in 2004, competed in his last recognized match took place at WrestleMania 32 when he sporadically faced former Wyatt Family member Erick Rowan and won in a 'Mania record six seconds. He had also worked several matches between 2011-13, mostly involving John Cena as part of two consecutive main event WrestleMania feuds, as well as CM Punk, which resulted in his 10th world championship.
Triple H, who is technically semi-retired from in-ring competition, has taken on more of an executive role during the past decade, but has annually competed at WrestleMania and — although not currently — has been an authoritative figure on WWE television.