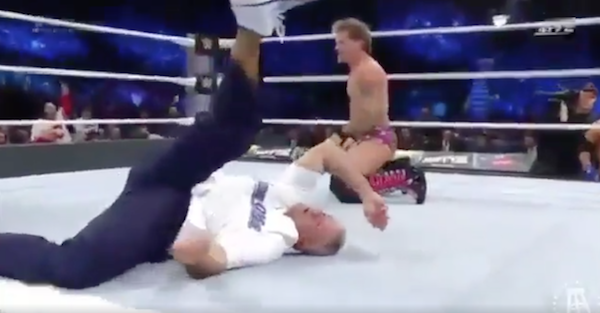 @FromTheTop/Twitter
Chris Jericho is a veteran in the squared circle, and after more than 25 years in the ring, he doesn't have time for too much nonsense.
Jericho recently appeared on the Off the Top Rope podcast from Barstool Sports and discussed the time he had to put Shane McMahon in his place at Survivor Series 2016.
"We get in the ring together, me and Shane, and we go to lock up and he punches me in the face. I go to lock him up again and he punches me in the face a second time. I roll to the floor, I'm pissed off, I slam the mat, I flip the f***ing desk thing over. I get back in and he punches me in the face again. Throw me in the corner, watch the boot, watch the dropkick.

He comes to the corner, I kick him right in his face. I go to the second rope. I jumped up and gave him the Jean Claude Van Dam double kick, pushing out and extending to the face. Boom, he goes down. So I'm looking at him and you can tell he's dazed a bit. I'm like, 'Calm the f**k down."
Deal with it.