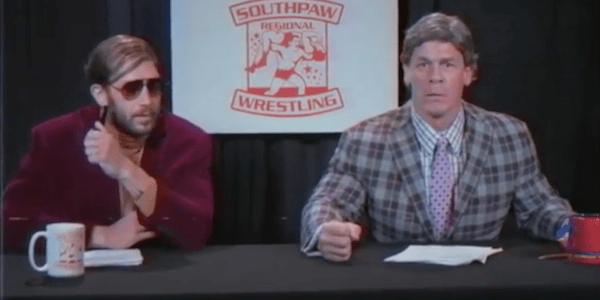 YouTube/WWE
Good news, wrestling fans.
WWE has "discovered" six new episodes of the faux 1908s territorial promotion Southpaw Wrestling, which was released on the company's YouTube page Friday.
The webseries, which debuted in March, showcases a Louisiana wrestling promotion with current WWE superstars playing the roles of outlandish gimmick characters including John Cena as Gordon Solie inspired lead broadcaster Lance Catamaran and his partner Chett Chetterfield, played by Fandango.
Season 2 also featured the return of several favorites including Tex Ferguson (Luke Gallows) and his former rival turned tag-team partner Chad 2 Badd (Karl Anderson), as well as new characters such as misunderstood America-loving Frenchman René Beret and patriot Dan Bandana (both played by Daniel Bryan), "The Butchers" tag-team of "Dry Rub" Doug (Seth Rollins) and Frantic Frank (Rhyno), The Banker (Tyler Breeze) and backstage interview Susan (Renee Young), among others.
Southpaw Wrestling seemingly began as a promotional tool for KFC's Georgia Gold Chicken earlier this year, but it's surprising popularity left fans demanding more.
Fortunately, the WWE roster has provided us with more comedy gold in Season 2, which hopefully won't be the last footage "discovered" from Southpaw Regional Wrestling.