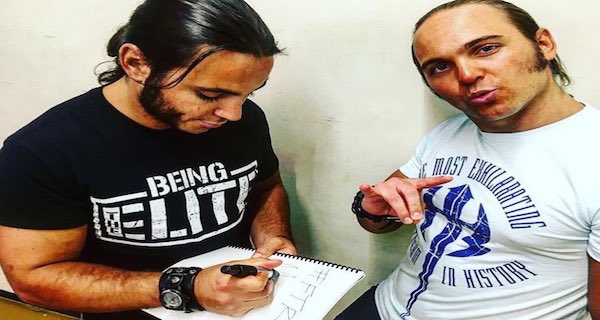 Twitter/MattJackson13
Twitter/MattJackson13
Wrestling fans have long awaited the day in which Young Bucks, Matt and Nick Jackson, appear on WWE television.
According to one current WWE superstar with ties to the Superkicking tag-team, it's an inevitable move.
SmackDown Live's AJ Styles, a former member of Bullet Club along side the team in New Japan Pro Wrestling and Ring of Honor, told PWInsider that the Young Bucks will be in WWE "within five years."
"I give them five years, at the most," Styles said. "Within five years. Yeah. That's my timeline. What do you think, had the people asked, 'Do you think AJ Styles would come here?', if you could have asked that ten years ago? What do you think people would have said then? You never know, man."
The Bucks re-signed with ROH last December and are under contract through 2018, according to Dave Meltzer of The Wrestling Observer Newsletter. The deal allows them to compete in both ROH and New Japan Pro Wrestling, while ensuring them a "significant pay increase" from both companies in 2017, as well as an additional bump in 2018.
The Bucks also have exclusive control of their merchandise, which has been crucial in their impressive financial success despite having never signed a lucrative contract with WWE.
Still, it doesn't mean that the WWE dream is completely dead once their contracts expire. Matt Jackson is currently 32 and his brother Nick is currently 28, so they'd still likely be a hot commodity within the 5-year span that Styles suggested.