The Daytona 500. The Great American Race. The Super Bowl of Stock Car Racing. There are many names for the first race of the NASCAR Cup Series season. And, as you probably know, there are even more incredible memories.
While we could go on and on about special Daytona 500 moments from over the years, Dale Earnhardt's first Daytona 500 win — and only Daytona 500 win — is on another level of special. If you were a NASCAR fan in the late '90s, you probably remember that day like it was yesterday.
By the time the 1998 Daytona 500 rolled around, it was the Intimidator's 20th run of the race. He had accomplished just about everything a NASCAR driver could dream of by then, including seven NASCAR Cup Championships.
And yet, he had yet to see the checkered flag at the inaugural NASCAR Winston Cup Series race at Daytona Beach, Florida, despite having finished second on four different occasions and landed within the top five eight different times.
But, I guess 20 was his lucky number.
Dale Earnhardt Wins the 1998 Daytona 500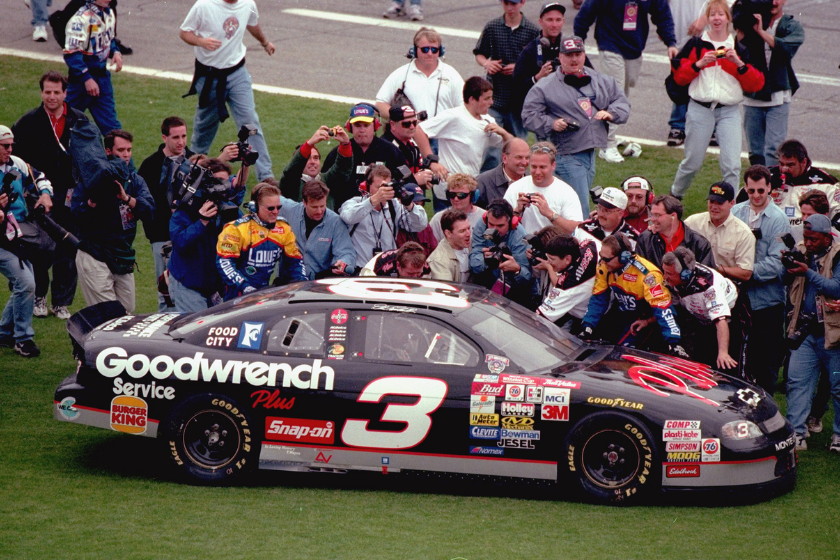 As far as restrictor plate races go, it was a relatively smooth race. There were no major accidents, the race was run under the green flag for the first 125 laps, and there were only three caution flags. This resulted in the second-fastest running of the Great American Race at the time.
Though Jeff Gordon put everyone on notice with a promising push about halfway through the race, Earnhardt came away with the victory at Daytona International Speedway pretty handily. The Intimidator dominated, leading for 107 laps in his iconic GM Goodwrench No. 3 Chevrolet race car for Richard Childress Racing.
Following Dale's big win, CBS's Mike Joy famously said, "The most anticipated moment in the history of motor racing, Dale Earnhardt rolling into Victory Lane in the Daytona 500."
The victory lane celebration for Dale was incredible, with every crew member of every team lining up to shake Mr. Restrictor Plate's hand.
"I have had a lot of great fans and people behind me all through the years and I just can't thank them enough," Earnhardt said immediately following the win. "The Daytona 500 is ours. We won it, we won it, we won it!"
Though the rest of the 1998 season would not go well for Dale Earnhardt Sr. (with Daytona being his only win that year), his victory at the 1998 Daytona was a historic moment for the Hall of Fame member's career and a historic moment for NASCAR.
Products featured on FanBuzz are independently selected by our editors. However, when you buy something through our links, we may earn a commission.
This post was originally published on February 4, 2018.
Related Videos