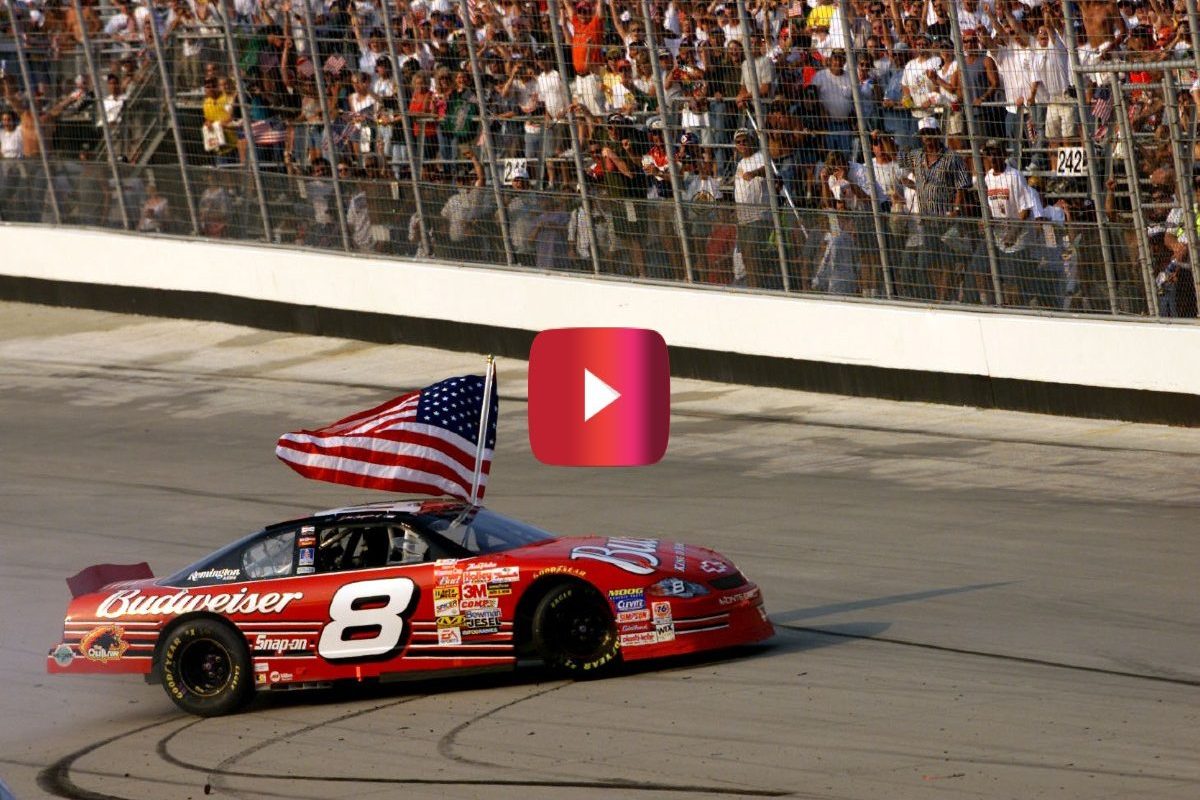 Jamie Squire/ALLSPORT
Jamie Squire/ALLSPORT
September 11, 2001. It's a date that all Americans will never forget.
September 23, 2001 is a date that most folks in the U.S., aside from hardcore NASCAR fans, may not be as familiar with, but it was on this day that NASCAR had its first Cup Series race at Dover International Speedway following the devastating 9/11 terrorist attacks.
It was also an extremely memorable day for Dale Earnhardt Jr., as it marked his first win — and only win throughout his NASCAR Cup Series career — at Dover. It's hard not to get chills watching Dale Jr. do a victory lap around the Delaware racetrack as he proudly displays the American flag out of the window of his Chevrolet race car.
Read More: Kyle Busch Gives Dale Earnhardt Jr. Warm Welcome at Brickyard 400 with Pace Car Bump-and-Run
In a video released back in 2017 as part of his JR Nation Appreci88ion Tour, Junior looked back on this emotional moment, which also marked his fourth Cup Series win.
"There's only these rare times when – no matter where you came from, who you were, what your job was, what your status was – you all were on the same page, and you all had the same feeling and attitude," Dale Jr. says in the video. "Going back to the race track, being at Dover, going through that process, seeing the reaction of the fans – all that was sort of the beginning of things being put back together."
Junior continues, "There's these times when this country really comes together hard, you know, and when we really bond and get behind the same purpose."
"Nobody knew how to act or what was the right thing to do or how we were supposed to respond, and the whole country was really sort of in shock and couldn't believe that this had happened. Everybody was kind of coming out and commenting on what they were gonna do – the NFL, I didn't think we were going to put off two race weekends."
"The attitude amongst NASCAR and what you were hearing outside of NASCAR was that we need to be doing what we're doing or what we?re supposed to be doing. This isn't going to stop what we do or how we live or how we act. Just a lot of patriotism – red, white and blue. There (were) a ton of American flags everywhere. Everywhere you turned there was a reminder or evidence of what the country had gone through, was going through, what everybody's attitude was about it, and it sort of built up over the weekend. And it was emotional. It was heavy."
As a broadcaster for NBC, Junior will likely go on to call iconic moments such as the one he was a part of all those years ago. But, we have a feeling that, for Dale, few things will be able to top that special day in 2001.

Products featured on Fanbuzz are independently selected by our editors. However, when you buy something through our links, we may earn a commission.
This post was originally published on September 11, 2018.