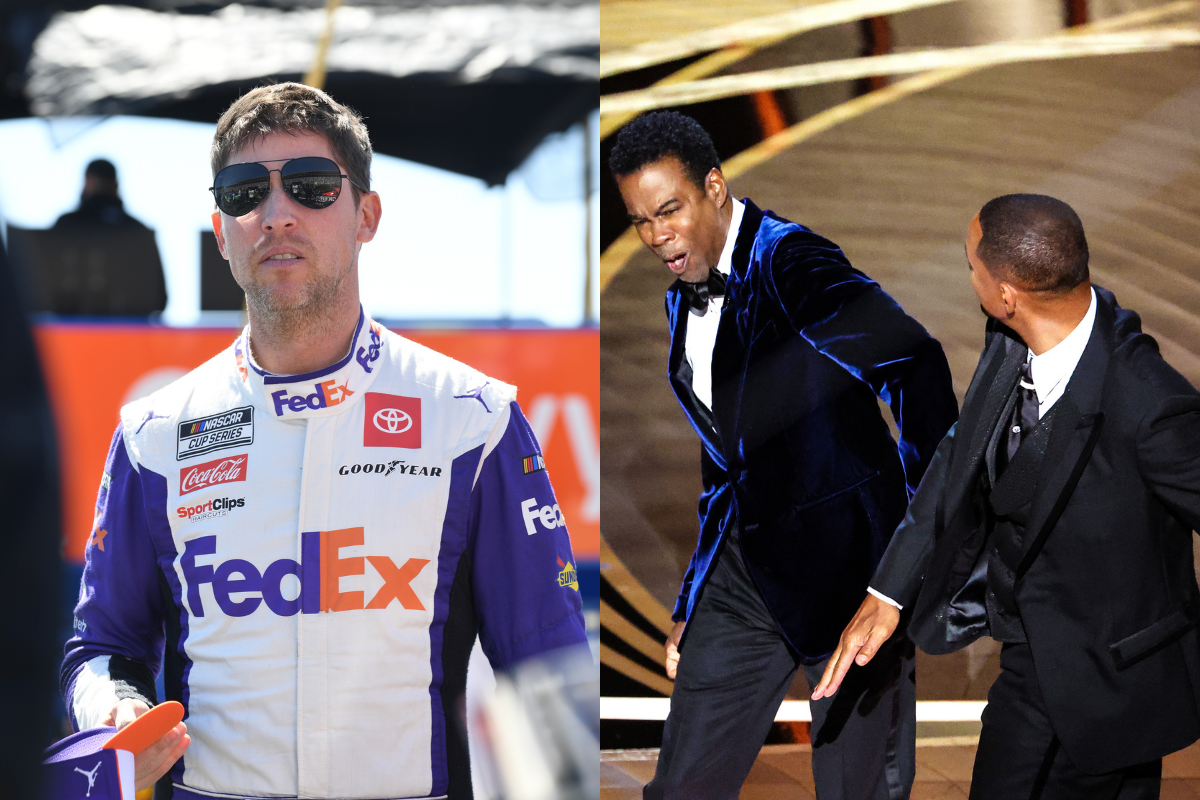 Jeffrey Vest/Icon Sportswire via Getty Images ; Myung Chun/Los Angeles Times via Getty Images
Jeffrey Vest/Icon Sportswire via Getty Images ; Myung Chun/Los Angeles Times via Getty Images
Will Smith slapping Chris Rock across the face during a live Academy Award broadcast probably wasn't on anyone's 2022 bingo card, but the now-already infamous incident at Sunday night's Oscars awards show has already been memed, critiqued, and hot-taked to death, barely a full 12 hours after it all went down.
Like pretty much everyone else with a Twitter account, NASCAR driver Denny Hamlin decided to use his platform to comment on the outlandish, almost surreal moment of live television.
"If there were more Will Smiths of the world and less Chris Rocks (people so [sic] say or do stuff without getting smacked in the face) we wouldn't have this problem," Hamlin tweeted.
Now, Hamlin's tweet wasn't just his attempt to insert himself into the story of the day, but actually his way of commenting on what happened between Ross Chastain and AJ Allmendinger at Sunday's NASCAR Cup Series race at the Circuit of the Americas.
Chastain raced to victory at Sunday afternoon's Echopark Automotive Texas Grand Prix, securing the first win of his Cup Series career. But, that momentous win didn't come without some collateral damage, as Chastain bumped Kaulig Racing driver A.J. Allmendinger out of contention in a last-lap move that was met with its fair share of controversy.
"I know [Allmendinger's] going to be upset with me," Chastain, who drives the No. 1 Chevrolet for Trackhouse Racing Team, told Fox Sports after the race. "We race hard, both of us and. He owes me one. When it comes to a Cup win, I can't let that go down without a fight."
In his own post-race interview, Allmendinger added, "At the end of the day, we all have to look ourselves in the mirror. If you are okay with it, you're okay with it. Each person is different."
Now, what does this have to do with the whole Will Smith-Chris Rock altercation? Well, before referencing it in his tweet — which he only alluded after a fan brought it to his attention — Hamlin tweeted his take about Chastain's last-lap bump of Allmendinger.
"In 2017 it wasn't ok. In todays world. 'High stakes' 'do whatever it takes' 'playoffs on the line' blah blah, it's all fair game. The game has changed and it's just expected now. Everyone runs over everyone. Doesn't matter if it's for 1st or 10th," Hamlin tweeted.
Then came Denny's "more Will Smiths of the world and less Chris Rocks" tweet. Was this the 23XI Racing owner's way of condoning violence in NASCAR? Not necessarily. Probably more along the lines of the importance of leaving it all on the track.
Products featured on FanBuzz are independently selected by our editors. However, when you buy something through our links, we may earn a commission.
Related Videos