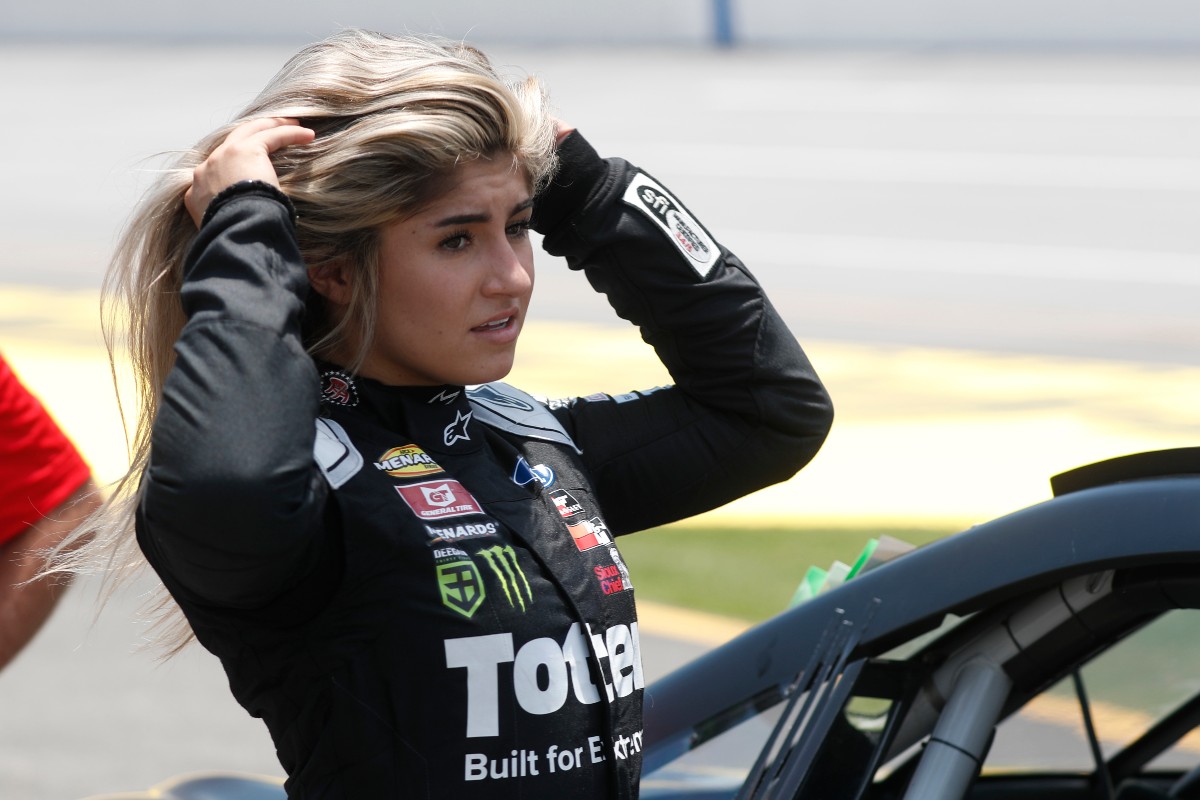 AP Photo/John Bazemore
AP Photo/John Bazemore
Hailie Deegan, a Ford development driver in the Camping World Truck Series, has issued an apology, after she used the R-word during a livestream of a NASCAR iRacing event on Sunday night.
The 19-year-old Deegan, who won the 2020 ARCA Menards Series Rookie of the Year award and is set to run a full Truck Series schedule in 2021, made the comment during the virtual race after a driver nudged her car. Video of Hailie's insensitive reaction eventually went viral on social media.
"Oh! Hey!" Deegan says in the clip. "Who?s the r***** behind me?! Don?t do that, please."
"Earlier tonight I used an insensitive word during an online race being broadcast on twitch," Deegan said in a statement posted on Twitter. "It was inappropriate slang and a stupid thing to do. I apologize to everyone who was offended by it. There's no excuse for it, and I know I have to do better for my sponsors and my fans.
Read More: Hailie Deegan Gets Helmet Signed by Donald Trump at Daytona 500
Ford issued a follow-up statement Monday, saying, ?We are aware of this inappropriate comment. Hailie immediately acknowledged this mistake, has apologized and promised to be much more thoughtful in the future.?
Deegan's iRacing controversy brings to mind Kyle Larson, who was suspended from NASCAR for six months and fired by Chip Ganassi Racing after saying the N-word during an iRacing event in April. In October, Larson signed on with Hendrick Motorsports for the 2021 NASCAR Cup Series season, and will continue to undergo sensitivity training for using the racial slur until 2023.
Deegan, who is the daughter of motocross legend Brian Deegan, finished second at ARCA's season-opening race at Daytona International Speedway, tying her with Shawna Robinson and Erin Crocker for best ARCA finish by a woman. She also made her Truck Series debut in October 2020, finishing 16th at Kansas Speedway, which set a record for highest finish by a female driver in her Truck Series debut.
Barring any disciplinary actions, Deegan will drive the No. 17 Ford F-150 for David Gilliland Racing (formerly DGR-Crosley) full-time in the Truck Series.