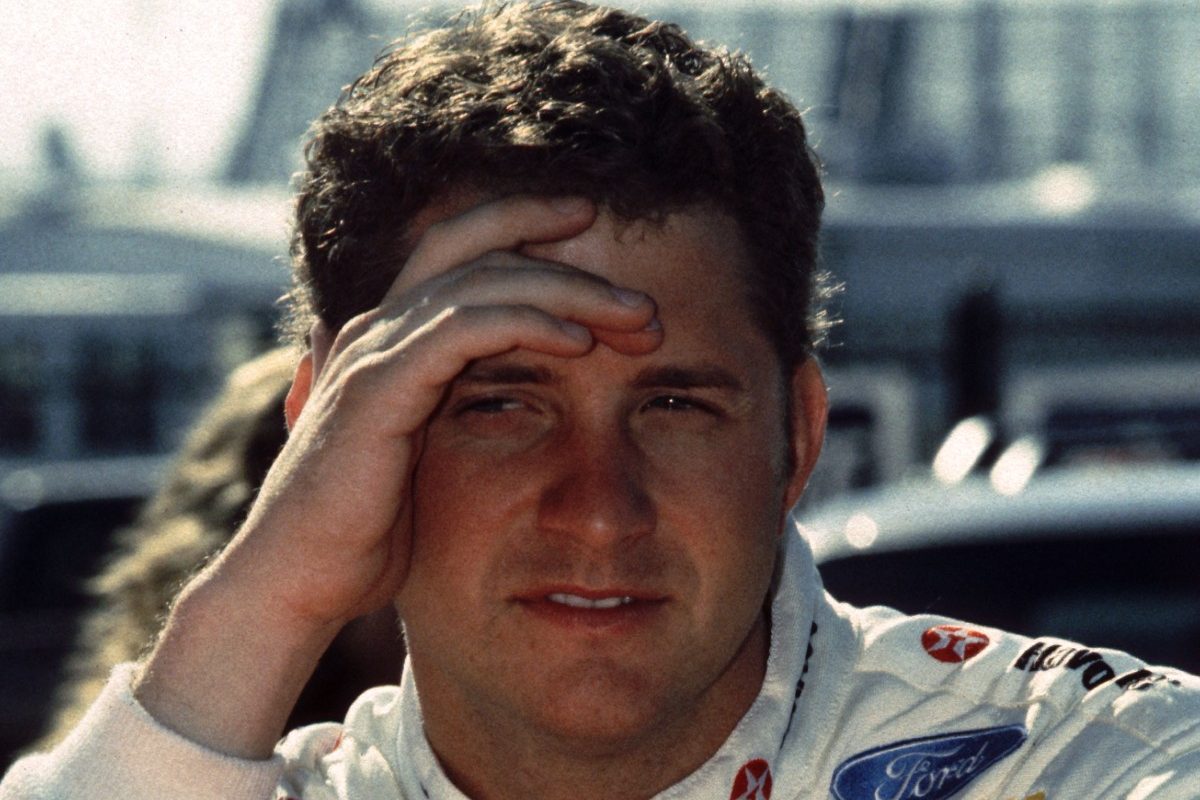 Brian Cleary/Newsmakers
Brian Cleary/Newsmakers
In the world of motorsports, there is absolutely nothing as tragic as a fatal wreck. While NASCAR races typically bring such joy, a deadly crash just goes to show how dangerous the sport can be.
While all of those drivers who were taken from us too soon are always in our hearts and minds, today, we'd like to remember late NASCAR driver Kenny Irwin Jr., who lost his life during a practice session at New Hampshire Motor Speedway on July 7, 2000.
Kenny Irwin Jr.'s Tragic Crash
It all happened during practice for the thatlook.com 300 at New Hampshire Motor Speedway in Loudon, New Hampshire. Kenny was rounding Turn 3 when his Team SABCO No. 42 Chevrolet slammed head-on into the wall.
The race car flipped onto its side, sliding for quite some time (as driver Brett Bodine recalled to CNN at the time) before later landing on its roof.
Kenny died instantly of a basilar skull fracture. It was a month before his 31st birthday.
Irwin's accident was said to be caused by a stuck throttle, the same malfunction behind the crash that had killed Adam Petty — the son of Kyle and grandson of Richard — two months prior. As misfortune would have it, Petty suffered his tragic fate at the same track and at the same exact spot as Kenny.
Tony Stewart, who was one of Irwin's biggest rivals during his driving career, would end up winning the thatlook.com 300 and donating the trophy to Irwin's parents.
Following his accident, Irwin's car became the No. 01 and was driven by Ted Musgraves for the rest of the 2000 season. Later that year, the Brickyard 400 would be run in Kenny's memory. His car would go back to its original No. 42 in 2003 and would see Jamie McMurray behind the wheel.
In Kenny's honor, his parents founded the Kenny Irwin Jr. Foundation and the Dare to Dream Camp for underprivileged children in New Castle, Indiana, which is right around Kenny's hometown of Indianapolis.
Kenny Irwin Jr.'s NASCAR Career
As a racer, Kenny Irwin Jr. really started to come into his own in the early '90s, when he began his career in the USAC. Winning the USAC Sprint Car Series Rookie of the Year in 1993, he would end up snagging seven career series wins. He also was the USAC Silver Crown Series Rookie of the Year in 1994 and, in the following year, he finished second in the USAC standings. The year after that, Kenny was the USAC National Midget Series champ.
When it was time for him to move on to NASCAR around 1997, he would end up being compared to none other than Jeff Gordon. In the years that followed, Kenny would win the 1997 NASCAR Craftsman Truck Series Rookie of the Year and the 1998 NASCAR Winston Cup Series Rookie of the Year, which he won while driving the No. 28 Ford car for Robert Yates Racing.
Besides racing in the Cup Series, where he racked up 12 top-10 finishes and three poles, Irwin also raced in the NASCAR Xfinity Series (four top-10 finishes) and the Truck Series (two wins, 11 top-ten finishes, and one pole).
Especially since he had so much promise in stock car racing, it really is such a tragedy that Kenny Irwin Jr. was taken far too soon. May he, and all the other drivers who tragically lost their lives on the race track, rest in peace.

Products featured on Fanbuzz are independently selected by our editors. However, when you buy something through our links, we may earn a commission.
This post was originally published on July 6, 2018.
Related Videos