Jason Smith/Getty Images
Jason Smith/Getty Images
NASCAR is a sport steeped in tradition. Though motorsports might not seem like the right arena for sentimentality, NASCAR fans will be quick to share with you their favorite feature of every track. Come race weekend, they'll be quick to grab their Official Race Socks, don their Official Race Cap, and do whatever chant, dance, or ritual that has historically provided their favorite driver with the winning edge. Allegedly.
But one NASCAR tradition comes from the concession stand at Martinsville Speedway in Virginia: the official NASCAR hot dog.
It's a Red Hot Dog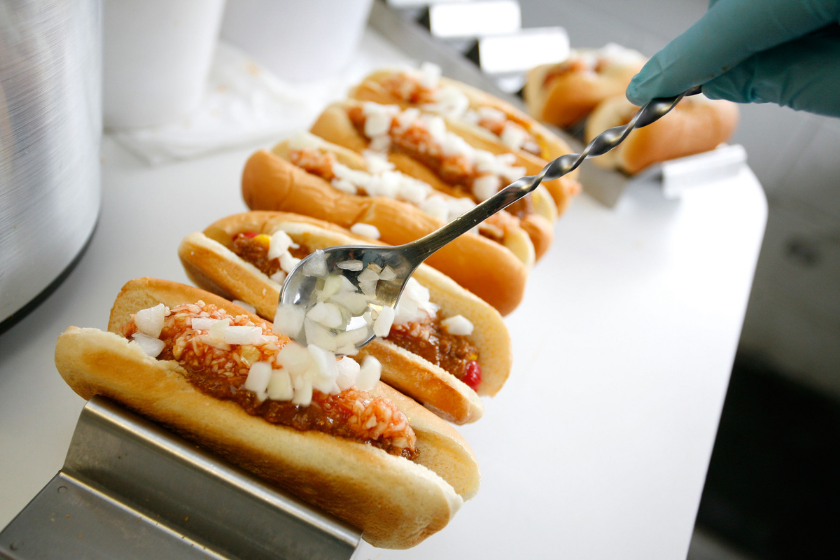 The famous Martinsville Speedway hot dog is different from every other hot dog in essentially every possible way.
First, the dog at the center of the bun is a Jesse Jones brand red hot dog. The bright red color of the dog is somewhat confusing to newcomers of the tradition, but Martinsville purists insist there is no other dog that could take its place. After all, it's been this way for over 50 years.
The dog is served on a steamed bun and topped with mustard, chili, and slaw. Bear in mind, this is a southern-style vinegar coleslaw, which gives it a certain snappy tang. None of that creamy Northern stuff to water down the Martinsville Speedway dog!
A Quick Break in Tradition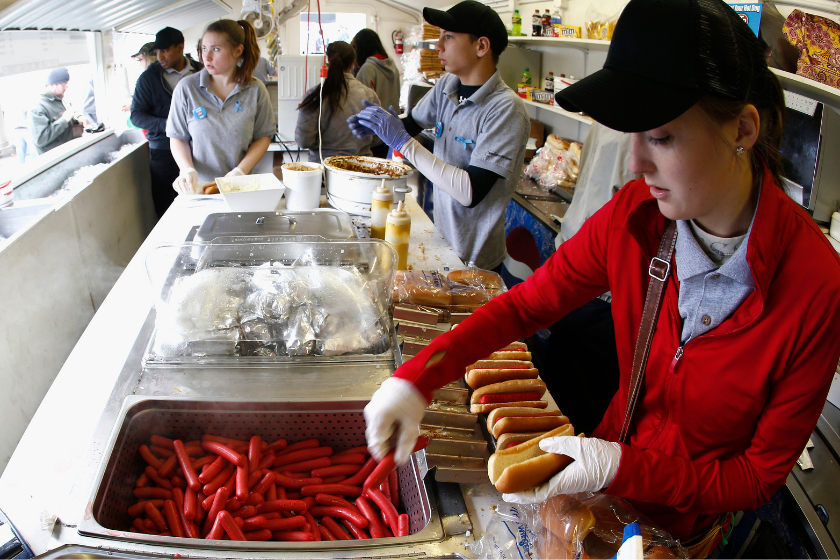 So, what does the famous dog cost? $2, fully loaded, just as it always has been. Martinsville Speedway President Clay Campbell has indicated that the race track likes to keep tabs on tradition, which is why the price of the dog hasn't changed in so many years.
That being said, there was a bit of controversy a few years ago, when Jesse Jones was replaced by another hot dog brand, who shall not be named (it was Smithfield). After a terrifying two-year hiatus in which race fans voiced many negative thoughts and opinions about the replacement, Jesse Jones red hot dogs were back at the concession stands as of the 2018 racing season.
Clearly, Mr. Campbell learned a thing or two about coming in between race fans and their traditions.
Back to Business at Martinsville Speedway
The famous Martinsville Speedway hot dog is served at major NASCAR events each year, including the Monster Energy NASCAR Cup Series, NASCAR Xfinity Series, and Camping World Truck Series.
The Martinsville Speedway itself is known for its devout observation of tradition, as well. Perhaps it comes from the fact that it has been a NASCAR Cup Series host every year since 1949. From the tight-turned paper-clip shaped 0.526-mile short track to the grandfather clock trophies received by winners since 1964, the things that are done at Martinsville are done so because of tradition.
In fact, current Martinsville Speedway President Clay Campbell is the grandson of track founder H. Clay Earles. Despite his earlier folly with the Jesse Jones hot dogs, it appears that Campbell believes strongly in tradition himself, which may be why that particular controversy shocked and appalled so many race fans.
But, now tradition has been restored, and the fans who show up for the next NASCAR race will have no problem finding and devouring the famous Martinsville Speedway hot dog, today and forever only $2.
Products featured on FanBuzz are independently selected by our editors. However, when you buy something through our links, we may earn a commission.
This post was originally published on May 28, 2021.
Related Videos