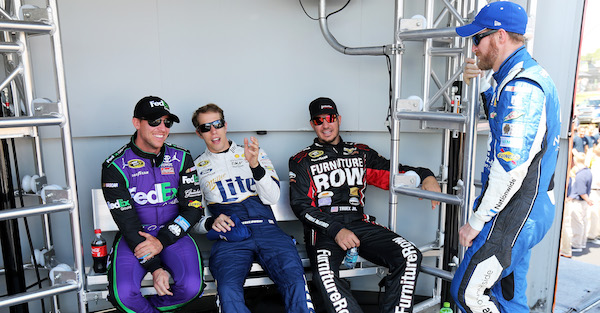 Jerry Markland/Getty Images
WATKINS GLEN, NY - AUGUST 09: (L-R) Denny Hamlin, driver of the #11 FedEx Ground Toyota, Brad Keselowski, driver of the #2 Miller Lite/Luke Bryan Ford, Martin Truex Jr., driver of the #78 Furniture Row/Visser Precision Chevrolet, and Dale Earnhardt Jr., driver of the #88 Nationwide Chevrolet, talk behind stage prior to the NASCAR Sprint Cup Series Cheez-It 355 at the Glen at Watkins Glen International on August 9, 2015 in Watkins Glen, New York. (Photo by Jerry Markland/Getty Images)
After a disappointing finish at Daytona, Martin Truex Jr. wasn't concerned. He knows the real season begins at Atlanta, and he knows the contenders will separate themselves from the pretenders at Atlanta Motor Speedway this weekend.
Unfortunately for Truex and the Furniture Row Racing team, they didn't get off to the start they needed.
As Truex prepared for qualifying on Friday, his No. 78 car failed inspections on three different occasions. As a result, Truex wasn't allowed to qualify and he will start the Folds of Honor QuikTrip 500 at the back of the pack.
The team's car chief, Blake Harris, was ejected from the race weekend. He won't be allowed to participate in any race activities throughout the weekend.
Truex will also lose 30 minutes of practice time on Saturday. He will start 35th on Sunday.
Related: Martin Truex Jr. let his frustrations show with a tirade caught on the radio scanners
Furniture Row Racing president Joe Garone said the team is working through some things to help figure out the issues.
"It?s a new process and we?re working hard ? collectively, the whole garage is ? to figure it out, to figure the boundaries out and how to get through and NASCAR is working with their equipment the same way and it?s tough," Garone said via Motor Racing Network. "It?s tough. One time you go through, the next time you don?t. You go through again and some things pass that didn?t pass the time before. It?s just frustrating. But we?ll get it all worked out. It?s just a matter of time."
The team will have a chance to pass inspections on Sunday before the race. If they fail another inspection, they will lose another crew member ? possibly crew chief Cole Pearn.
It's a big weekend for Truex's team as they look to improve upon their finish from last week and defend their Cup Series championship.