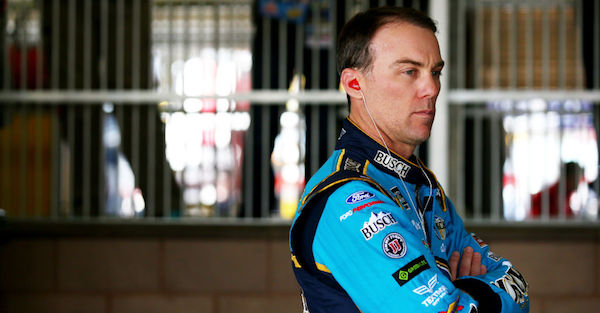 Sarah Crabill/Getty Images
FONTANA, CA - MARCH 25: Kevin Harvick, driver of the #4 Busch Beer Ford, stands in the garage during practice for the Monster Energy NASCAR Cup Series Auto Club 400 at Auto Club Speedway on March 25, 2017 in Fontana, California. (Photo by Sarah Crabill/Getty Images)
Kevin Harvick dominated at Atlanta for the fifth straight year, and this time he finally came away with the victory.
Most of the drivers who ran well at Atlanta have been around the sport for several years, and Harvick said he thinks veteran drivers had an advantage.
AMS hasn't been repaved in over two decades, and Harvick believes the track surface left younger drivers at a disadvantage. The rest of the top 5 ? Brad Keselowski, Clint Bowyer, Denny Hamlin, Martin Truex Jr. ? was over 30, and eight drivers in the top 10 were over 30.
"This is a racetrack that takes a lot of experience, and there's a lot of things that you have to know about your car and know about the racetrack to get the car around the racetrack," Harvick said via AutoSport.
Related: Kevin Harvick wants to see a change in the culture of NASCAR
Clint Bowyer agreed with Harvick, and he said Atlanta is an "old school track."
Harvick thinks this weekend's race at Las Vegas will be a different story, and he said fans can expect the younger drivers to perform much better.
"There will be a lot of young guys in the mix [at Vegas] with a racetrack that's a little calmer with things that you don't have to have in your memory bank," Harvick said.
"But we're in a great spot in our sport because we have these young guys that are fired up and can drive the car fast and have great stories and have ties to great family heritage of our sport, and you have guys that you've never heard of. That's what you have to have."
Unfortunately for the young drivers, this race has been dominated by veterans in recent years, too. Martin Truex Jr. won last year, and Brad Keselowski has won two of the last three. Harvick won in 2015.
The race is slated for Sunday at 3:30 p.m. ET on FOX.