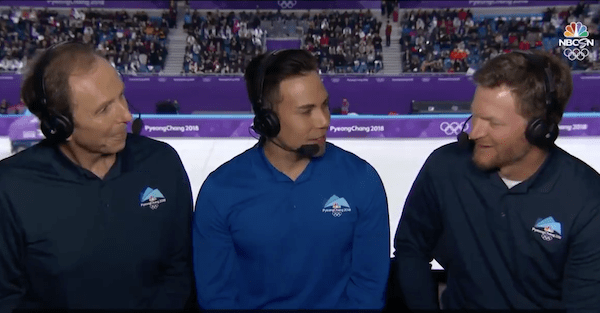 NBCOlympics/Twitter
NBCOlympics/Twitter
Now that Dale Earnhardt Jr. is officially retired from NASCAR, he's making his transition to the broadcasting booth for NBC.
While he'll primarily focus on NASCAR coverage for the network, they also sent him to South Korea to help with the Winter Olympics coverage.
Dale Jr. hasn't been there long, but he's already found the Winter Olympic sport that he believes is most like NASCAR: speedskating.
Earnhardt appeared on NBC's speedskating coverage with Ted Robinson and eight-time Olympic medalist Apolo Anton Ohno, and he said the strategy involved with speedskating is very similar to the strategy with NASCAR.
Related: Dale Earnhardt Jr. compares his NASCAR career to an unhealthy relationship
"This is just like NASCAR on ice, I swear," Earnhardt said via For The Win. "It?s so aggressive I can?t believe it. So much action. This is quickly becoming my favorite sport this week."
Earnhardt said there's a lot of gamesmanship in both sports.
"It?s really interesting and there are a lot of similarities, a lot of gamesmanship and the competitiveness between all the skaters and who?s going to make the move," he said. "I mean all that sort of chess-match (strategy), it plays out similarly on the race track. ?
"The danger is real, so you see when someone makes the slightest mistake, it takes them out of the event, and it?s usually a pretty hard crash."
Earnhardt will start his role with NBC's NASCAR coverage during the second half of the season later this year.