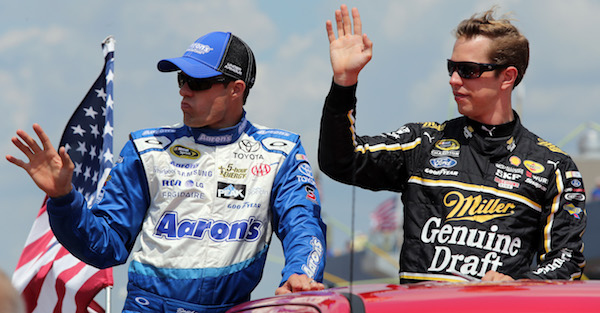 Jerry Markland/Getty Images
BROOKLYN, MI - AUGUST 16: (L-R) David Ragan, driver of the #55 Aaron's Dream Machine Online Version Toyota, and Brad Keselowski, driver of the #2 Miller Lite Ford, participate in pre-race ceremonies before the NASCAR Sprint Cup Series Pure Michigan 400 at Michigan International Speedway on August 16, 2015 in Brooklyn, Michigan. (Photo by Jerry Markland/Getty Images)
When David Ragan makes his start at the Folds of Honor QuikTrip 400 this Sunday in his home state of Georgia at Atlanta Motor Speedway, he will hit a career milestone worth celebrating even if he doesn't win the race.
Ragan is making his 400th career Cup Series start on Sunday, and he will be honored by the track and by the Georgia state legislature.
According to NBC Sports, Ragan and track president Ed Clark will appear at a ceremony in the General Assembly where the legislature will issue a proclamation to honor Ragan and before his 400th start.
"Atlanta Motor Speedway is special to me because I grew up at that track," Ragan said. "I raced my Legends car there as a kid in the 90s and early 2000s. My dad still works there and has an office there. It?s just always has been a second home to me. So, we couldn?t have scripted it better to have my 400th start be in Atlanta."
Related: NASCAR team hit with suspension, fine after strong Daytona showing
NBC Sports NASCAR analyst Nate Ryan tweeted that Ragan is making his 400th start at a younger age than Jimmie Johnson, Kevin Harvick, Martin Truex Jr., Denny Hamlin and other Cup Series drivers. Ragan made his first start in 2006 with Roush Fenway Racing.
Ragan is now driving the No. 38 Ford for Front Row Motorsports. He has two wins in his career ? the first of which came at Daytona in 2011, and the second came at Talladega in 2013 ? and also has 39 top 10s and 15 top 5s.