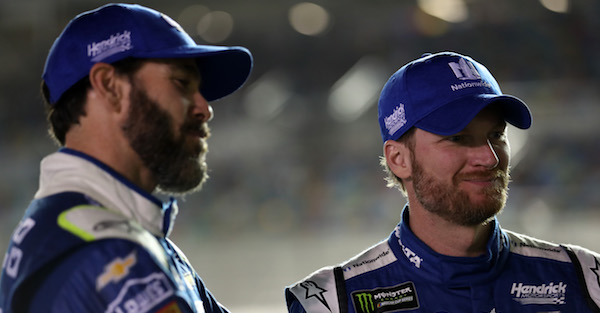 Chris Graythen/Getty Images
DAYTONA BEACH, FL - FEBRUARY 23: Jimmie Johnson, driver of the #48 Lowe's Chevrolet, and Dale Earnhardt Jr., driver of the #88 Nationwide Chevrolet, talk prior to the Monster Energy NASCAR Cup Series Can-Am Duel 2 at Daytona International Speedway on February 23, 2017 in Daytona Beach, Florida. (Photo by Chris Graythen/Getty Images)
Jimmie Johnson had a rough finish to the 2017 season, and his start to 2018 has been less than ideal.
He followed up a 38th-place finish at Daytona by finishing 27th at Atlanta. Even worse, he was never in contention in either race.
Despite Johnson's struggles, Dale Earnhardt Jr. isn't worried about his former Hendrick Motorsports teammate. At least not yet.
Earnhardt said on his podcast, the Dale Jr. Download, that fans need to wait a few races before they worry about Johnson's performance.
"Honestly, I don?t take too much stock in the points at this point in the season, two race in," Earnhardt said. "One thing that you pay attention to is if we get five races in, and Jimmie hasn?t rebounded somewhat, that?s some cause for some serious concern.
"Any driver that?s down outside of the top 20 ? or even around 18th, from 18th on back or so ? if they?re in that area after five races, they?ve got a good possibility of being one of the drivers that?s battling for one of those last few spots in the playoffs ? unless they?re able to get a win at some point in the season to push them up further into the playoff situation and conversation."
Related: Jimmie Johnson suffers a set back in Atlanta; continues a terrible start to the season
Johnson hinted on Twitter on Monday that he's ready to face his challenges and break through.
Johnson has four wins at Las Vegas, though his last win came in 2010. It wouldn't be surprising at all to see him bounce back on Sunday.
(h/t For The Win)