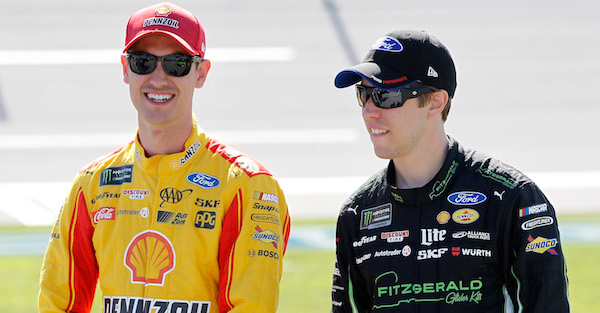 Brian Lawdermilk/Getty Images
TALLADEGA, AL - MAY 06: Joey Logano, driver of the #22 Shell Pennzoil Ford, talks to Brad Keselowski, driver of the #2 Fitzgerald Glider Kits Ford, on the grid during qualifying for the Monster Energy NASCAR Cup Series GEICO 500 at Talladega Superspeedway on May 6, 2017 in Talladega, Alabama. (Photo by Brian Lawdermilk/Getty Images)
NASCAR has a new points leader, and it's not Kevin Harvick.
Despite his impressive win at Atlanta, Harvick isn't even in the top three in the points after two races. Neither is Daytona 500 winner Austin Dillon.
Instead, Joey Logano is currently in first with 89 points, and he has a six-point lead over Ryan Blaney, Denny Hamlin is in third with 77 points.
Harvick has 75 points, followed by Clint Bowyer with 74 and Dillon with 70. Defending champion Martin Truex Jr. is seventh with 69 points.
Related: NASCAR?s point systems is flawed, and the Daytona 500?s results prove it
NASCAR's points system is confusing, and it doesn't make much sense that Harvick is outside of the top three. Logano doesn't have a win or even a stage win, while Harvick has a win and a stage win.
Hamlin has top fives at both Daytona and Atlanta, so him being in the top three actually makes sense.
But having three non-winners in the top three ahead of the two drivers who have actually won races is baffling, and it has to be just as frustrating for the drivers as it is for fans.
The standings will eventually work itself out over time, but for now, it's thoroughly confusing ? especially given how Harvick dominated at Atlanta.
Check out the full standings here heading into this weekend's race at Las Vegas.
(h/t NBC Sports)