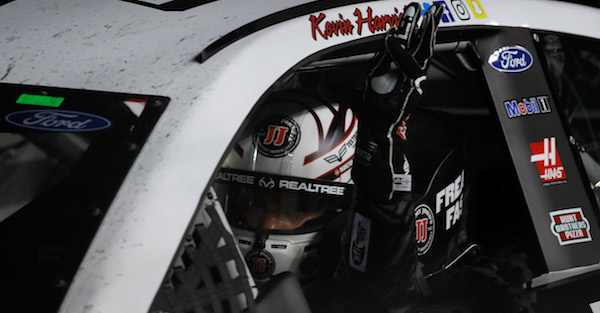 Kevin C. Cox/Getty Images
HAMPTON, GA - FEBRUARY 25: Kevin Harvick, driver of the #4 Jimmy John's Ford, displays a three out of his window after winning the Monster Energy NASCAR Cup Series Folds of Honor QuikTrip 500 at Atlanta Motor Speedway on February 25, 2018 in Hampton, Georgia. The gesture shows tribute to the late Dale Earnhardt. (Photo by Kevin C. Cox/Getty Images)
In 2001, Kevin Harvick wasn't supposed to be a full-time driver in the Cup Series. But after the tragic death of Dale Earnhardt in the season-opener at Daytona, Richard Childress Racing picked Harvick to fill in for Earnhardt full-time in the No. 29 car.
Harvick's third career start came at Atlanta, and the 25-year-old found a way to win the race as he held off Jeff Gordon by .006 seconds.
After he won the race, Harvick saluted the late Earnhardt by holding three fingers up in the air outside of his window as he ran the track backwards while the crowd roared.
Related: Kevin Harvick believes one young driver could be NASCAR?s next megastar
Entering Sunday's race at Atlanta, Harvick hadn't been able to secure that second win at Atlanta. He had led over 700 laps at the track over the last five years, but he hadn't been able to win.
That all changed on Sunday.
Harvick dominated the race yet again, and this time he was able to hold on for the win. After he won and did his celebratory burnout, an emotional Harvick once again held three fingers out of the window of his car to honor Dale Earnhardt.
Harvick was clearly emotional after the win, and fans could tell how much the win meant to him.
"I'm just so proud of everybody on our team," Harvick said.
"To be able to do that and pay tribute to Dale was cool, been waiting a long time to do that. We?ve had so many days we could have done that. It?s good to be back in victory lane. Finally. It took a while."
Harvick's win and tribute came a week after Austin Dillon performed a similar tribute to Earnhardt last week on the 20-year anniversary of Earnhardt's first win at Daytona and the 17-year anniversary of his death.
Harvick, the 2014 Cup Series champion, will look to add another title to his resume, and Sunday's win puts him in position to make another playoff run this year.