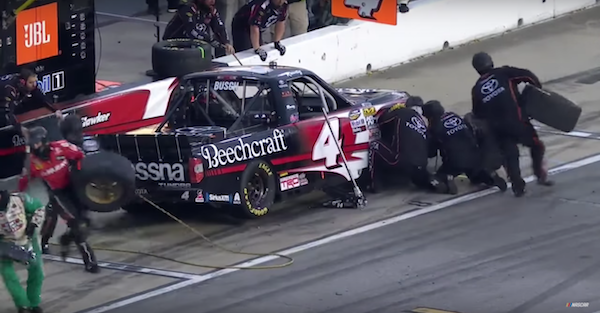 NASCAR/YouTube
NASCAR/YouTube
Kyle Busch lost a tire coming out of pit road during last week's Truck Series race, and the mistake cost him a chance at winning or having a good finish at Atlanta.
Related: NASCAR fans delighted as Kyle Busch suffered a huge setback with a pit road mistake
NASCAR handed down suspensions for Busch's pit crew, but officials hinted something very important involving the suspensions. In the past, those crew suspensions would carry over to every series, but chief racing development officer Steve O'Donnell said on SiriusXM NASCAR Radio's "The Morning Drive" that suspensions might be limited to that series only.
"Where we took a look at that is around the rosters and the roster limitations we have on all three series," O'Donnell said via NBC Sports. "In the past, that?s been something that we?ve had that if you were suspended for that violation it carried across all three of our national series.
"I think that?s really the discussion, not so much will they be penalized ? they will ? it?s should it just apply to the Camping World Truck Series. I think that?s where we?re leaning but (series officials) wanted to take the time to get through the weekend and have that dialogue internally."
According to NASCAR rules, Busch's Truck Series crew chief, Marcus Richmond, will be suspended for three races. Rear tire changer Coleman Dollarhide and jack man Ernie Pierce will also be suspended for three races. Dollarhide is the rear tire changer for Cole Custer's Xfinity Series team, while Pierce is the jack man for Clint Bowyer's team.
NASCAR limited the number of pit crew members for each team from six to five before the season started, so teams are already working with one less crew member. A multi-series suspension would be very difficult for some teams to overcome.
?We want to be as fair as we can," O'Donnell said. "We want the penalty obviously to have some teeth into it. We think it does in terms of the suspension. We want to make sure it possibly just applies to that series and who is working on that race."