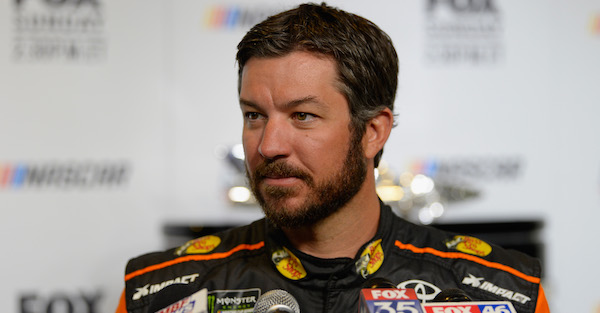 Robert Laberge/Getty Images
DAYTONA BEACH, FL - FEBRUARY 14: Martin Truex Jr., driver of the #78 Bass Pro Shops/5-hour Energy Toyota, speaks with the media during the Daytona 500 Media Day at Daytona International Speedway on February 14, 2018 in Daytona Beach, Florida. (Photo by Robert Laberge/Getty Images)
Restrictor plate races are often highly entertaining and involve huge wrecks, but they rarely serve as an indicator of who the top drivers are during the season.
Most NASCAR fans probably noticed how most of the expected contenders for this season didn't fare so well at Daytona. Martin Truex Jr. finished 18th, while Kyle Busch, Kyle Larson and Kevin Harvick weren't in contention late in the race.
Truex, the defending Cup Series champion, said this Sunday's race at Atlanta will give him and fans a better idea of who the real contenders are for this season.
"After how we ran in Daytona, we are definitely looking forward to going to a downforce track," Truex said via Autosport.
Related: Martin Truex Jr. let his frustrations show with a tirade caught on the radio scanners
"While Daytona is the biggest and most prestigious race to win, the season actually starts ? at least in our case ? at a downforce track.
"Atlanta should give us a good indication how we fare against the competition."
Atlanta is a 1.5-mile track, and Truex won seven of his eight races last season on 1.5-mile tracks. Toyota had an aerodynamic advantage over Chevy and Ford at those tracks, and Truex's average finish in 11 1.5-mile races was 2.4.
Brad Keselowski won at Atlanta last season, and Jimmie Johnson won the two years before that. Johnson has won five times at Atlanta, which is the most of any active driver.
Expect Truex and Kyle Busch to have better showings this week as the top drivers re-establish themselves.