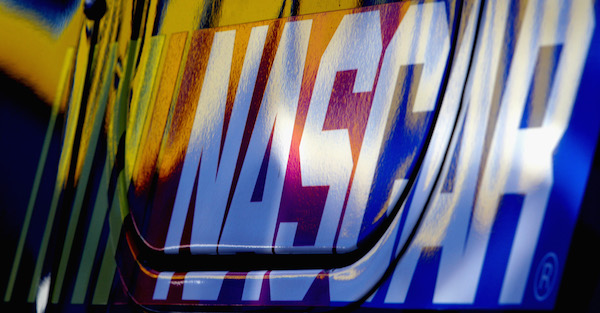 Jerry Markland/Getty Images
BRISTOL, TN - MARCH 15: View of the NASCAR logo during practice for the NASCAR Sprint Cup Series Food City 500 at Bristol Motor Speedway on March 15, 2014 in Bristol, Tennessee. (Photo by Jerry Markland/Getty Images)
While everyone in the NASCAR world is still talking about last Sunday's wild Daytona 500, the sport has to turn its attention to this weekend's race at Atlanta Motor Speedway.
There isn't as much buzz surrounding the Folds of Honor QuikTrip 400 ? which is understandable since Daytona is the most popular race in the sport ? but this Sunday's race is set to make some unfortunate history.
According t0 AP analyst Jenna Fryer, there are only 36 cars currently entered for Sunday's race. If that number holds, it would be the smallest field in decades.
Last year, there were 39 cars competing at Atlanta, which was the smallest field in two decades.
Related: A NASCAR driver will be honored in Atlanta for hitting a major milestone
Under NASCAR's charter system, only 36 cars are guaranteed a spot in each race. The maximum number of drivers in a field is now 40, and open cars have less incentive to show up to compete at qualifying.
NASCAR executive Steve O'Donnell said he would like to see more full-time cars in the field each week, but he likes where things are for now.
"I think it is one of the best fields we?ve had, it?s deep," O?Donnell said. "In the future, would we like to see more? We probably would. But when you look across all of sports now, the idea of sending someone home with a major sponsor, it just doesn?t happen in sports today. It?s not just a reality for NASCAR, it?s all motorsports, and sports in general."
It's an unfortunate setback for NASCAR, especially after such a promising start to the season. Despite the low TV ratings, the product on the track was quality during Austin Dillon's win. Bubba Wallace's strong performance has fans buzzing, and Denny Hamlin's feud with him following the race was another fun layer for the sport.
Hopefully the product continues to improve and NASCAR can avoid more setbacks throughout the season.