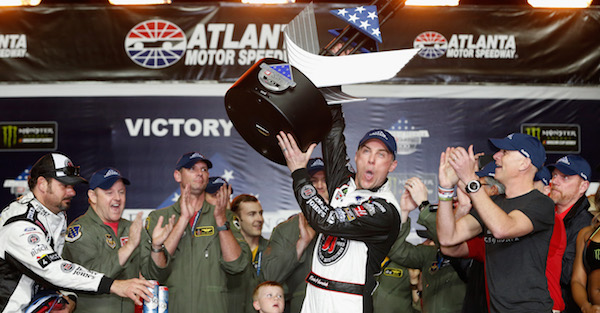 Brian Lawdermilk/Getty Images
HAMPTON, GA - FEBRUARY 25: Kevin Harvick, driver of the #4 Jimmy John's Ford, celebrates in Victory Lane after winning the Monster Energy NASCAR Cup Series Folds of Honor QuikTrip 500 at Atlanta Motor Speedway on February 25, 2018 in Hampton, Georgia. (Photo by Brian Lawdermilk/Getty Images)
Two races into the season and NASCAR's viewership is already trending in the wrong direction.
The season opener at Daytona had less than 10 million viewers, and last Sunday's race at Atlanta had only 5.6 million viewers. That number is down 15 percent from a year ago, according to Yahoo Sports.
Atlanta's race was delayed due to rain, so it started later than anticipated which might've played a role in the lack of viewers.
Sports Media Watch reported that the second race of the season is typically among the strongest viewership wise for NASCAR, so the news from at Atlanta could be an alarming trend for the sport moving forward.
"In addition, ratings and viewership were the lowest for the second Cup Series race of the season in at least 20 years. The second race has historically been NASCAR?s strongest draw outside of Daytona. It exceeded ten million viewers as recently as 2011 (Phoenix: 5.9, 10.3M). A decade ago, it managed a 6.2 and 10.9 million for rainout coverage opposite the Academy Awards."
Related: NASCAR analyst has an idea that would shake up the sport
NASCAR officials were optimistic entering the season, but if the first two races are any indication, it could be a rough year for the sport.
Last year's ratings decline was unexpected, but a decline this year isn't too surprising. Not many sports can sustain the loss of its biggest star immediately, and NASCAR is in a transition period.
Losing Dale Earnhardt Jr. will hurt considerably in the short term, and the sport has also lost Jeff Gordon, Tony Stewart, Carl Edwards, Matt Kenseth and Danica Patrick in recent years. That's a lot of star power in a short amount of time.
The hope for NASCAR is that the young generation of talent can blossom soon and lead to a rejuvenation for the sport. If not, NASCAR could be in big trouble soon.