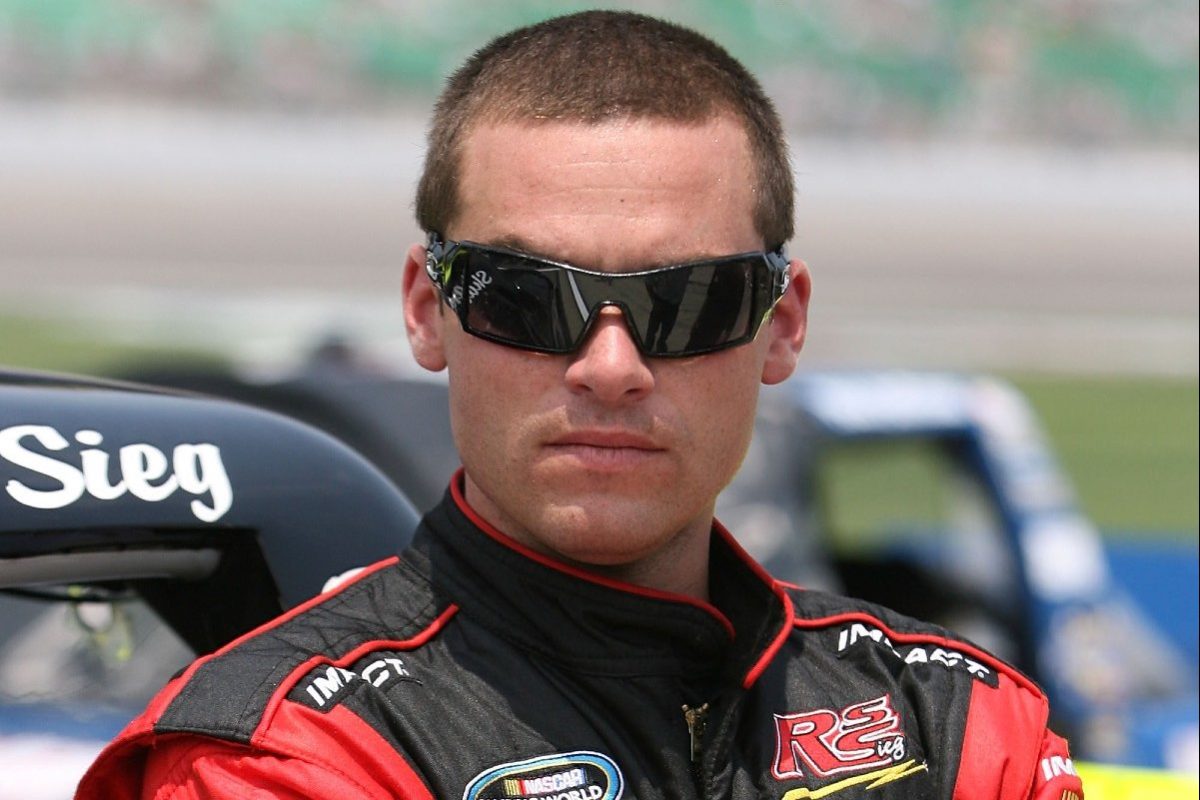 Tim Umphrey/Getty Images for NASCAR
Tim Umphrey/Getty Images for NASCAR
On August 19, 2017, professional stock car racing driver Shane Sieg tragically passed away, only a few days short of his 35th birthday. Having raced in 68 NASCAR Camping World Truck Series races in seven years and garnered three top-10 finishes, the Tucker, Georgia native was indefinitely suspended by NASCAR in 2011 for "for violating its substance abuse policy and for actions detrimental to the sport," according to ESPN.
The late Truck Series driver's cause of death was never officially released, but shortly after Shane Sieg's passing, Ryan Sieg Racing, the family-owned racing team that both Shane and his younger brother Ryan Sieg raced for (now known as RSS Racing or Ryan Shane Sieg Racing), broke the news with a short and heartbreaking statement via Twitter. The news garnered reactions from such notable NASCAR Cup Series racers as Brad Keselowski.
Two weeks after Shane's death, NASCAR Xfinity Series driver Ryan Sieg announced that, for the 2017 Xfinity race at Darlington Raceway, the paint scheme for his No. 39 Chevrolet would be based on a scheme that Shane Sieg used on a late model in 2003.
"This is the ultimate tribute for my family," Ryan Sieg said in a press release at the time. "My brother had a love for racing and I'm honored to carry this scheme at Darlington. For my family and our friends this is a very special tribute. I just want everyone to smile when they see the car on track this weekend."
Of course, it's always sad when someone in the professional racing community dies, but the untimely death of Shane Sieg will go down as a particularly tragic footnote in modern racing history.
Read More: Remembering the Tragic Plane Crash Death of NASCAR Driver Ted Christopher
Shane Sieg's NASCAR Career
Born Rodney Shane Sieg, the former NASCAR driver made his NASCAR debut in 2003, running in the Camping World Truck Series race at New Hampshire International Speedway. He drove No. 08 Chevrolet for SS-Green Light Racing and finished 16th. He would go on to compete in 67 more Truck Series races over the course of the next seven years, competing for such teams as Billy Ballew Motorsports and RSS Racing. He racked up three top-10 finishes, placing 8th in the 2004 Copart 200, 10th in the 2007 UNOH 175, and 9th in the 2008 MemphisTravel.com 200. His final race was the 2011 Good Sam RV Emergency Road Service 125 at Pocono Raceway.
Having also made two NASCAR Xfinity Series starts, Sieg also attempted to compete in the Busch Series. Failing to qualify at Rockingham in the No. 51 Dodge for Rick Ware Racing, he qualified for the next two races at Las Vegas and Darlington. He crashed early in both races, finishing 42nd and 37th, respectively.

Products featured on Fanbuzz are independently selected by our editors. However, when you buy something through our links, we may earn a commission.
This post was originally published on March 15, 2019.
Related Videos