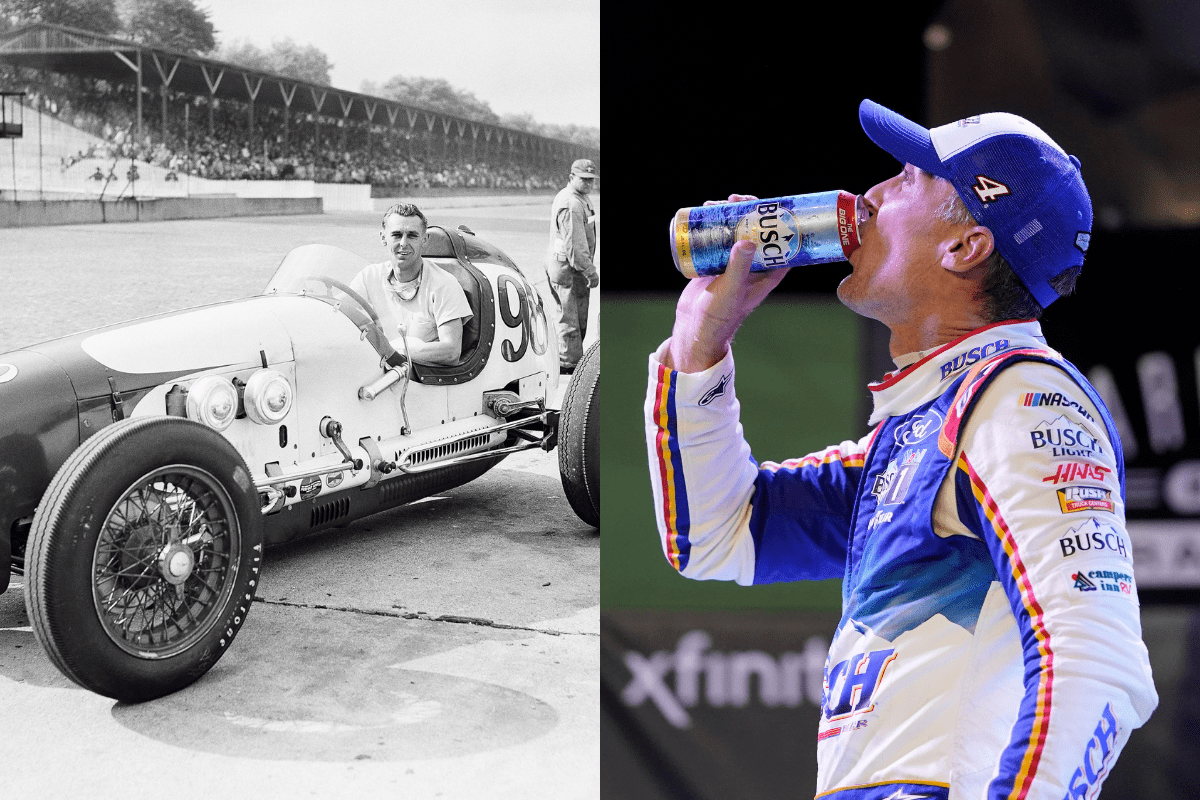 AP Photo/Gene Herrick ; AP Photo/Chris Carlson
AP Photo/Gene Herrick ; AP Photo/Chris Carlson
The Southern 500, known today as the Cook Out Southern 500, is among one of the most historic NASCAR Cup Series races still in existence. The 501-mile race takes place on Labor Day weekend at Darlington Raceway, a.k.a. The Track Too Tough to Tame, in Darlington, South Carolina. It started way back in 1950, and it was the longest stock car race in existence until the Daytona 500 debuted in 1959.
For the last five years, the race has even been themed as a NASCAR throwback weekend, with many of the cars sporting older-style paint schemes as tribute to the greats. Speaking of throwbacks and greats, Bill Elliott, by winning the Southern 500 in 1985, became the first recipient of the Winston Million — a million-dollar prize given to the winner of three out of four prominent races (Southern 500, Winston 500, Daytona 500, and Coca-Cola 500). With Darrell Waltrip racking up his final career victory at the Southern 500 in 1992, and Jeff Gordon going on an impressive four-peat (1995-1998), the race has been full of iconic moments over the course of its 70-year history.
Getting a win at the Southern 500 is no easy task, but one skilled driver will get to claim the achievement each year. Below, we'll take a look back at each of the drivers and teams that were able to pull it off from 1950 all the way up to 2020.
Southern 500 Winners
1950: Johnny Mantz ? Hubert Westmoreland ? No. 98 Plymouth
1951: Herb Thomas ? Herb Thomas ? No. 92 Hudson
1952: Fonty Flock ? Frank Christian ? No. 14 Oldsmobile
1953: Buck Baker ? Bob Griffin ? No. 87 Oldsmobile
1954: Herb Thomas ? Herb Thomas ? No. 92 Hudson
1955: Herb Thomas ? Herb Thomas ? No. 92 Chevrolet
1956: Curtis Turner ? Charlie Schwam ? No. 99 Ford
1957: Speedy Thompson ? Speedy Thompson ? No. 46 Chevrolet
1958: Fireball Roberts ? Frank Strickland ? No. 22 Chevrolet
1959: Jim Reed ? Jim Reed ? No. 7 Chevrolet
1960: Buck Baker ? Jack Smith ? No. 47 Pontiac
1961: Nelson Stacy ? Dudley Farrell ? No. 29 Ford
1962: Larry Frank ? Ratus Walters ? No. 66 Ford
1963: Fireball Roberts ? Holman-Moody ? No. 22 Ford
1964: Buck Baker ? Ray Fox ? Dodge
1965: Ned Jarrett ? Bondy Long ? No. 11 Ford
1966: Darel Dieringer ? Bud Moore Engineering ? No. 16 Mercury
1967: Richard Petty ? Petty Enterprises ? No. 43 Plymouth
Read More: Chase Elliott Rips Incredible Burnout After Daytona International Speedway Road Course Win
1968: Cale Yarborough ? Wood Brothers Racing ? No. 21 Mercury
1969: LeeRoy Yarbrough ? Junior Johnson & Associates ? No. 98 Ford
1970: Buddy Baker ? Cotton Owens ? No. 6 Dodge
1971: Bobby Allison ? Holman-Moody ? No. 21 Mercury
1972: Bobby Allison ? Richard Howard ? No. 12 Chevrolet
1973: Cale Yarborough ? Richard Howard ? No. 11 Chevrolet
1974: Cale Yarborough ? Junior Johnson & Associates ? No. 11 Chevrolet
1975: Bobby Allison ? Penske Racing ? No. 16 AMC
1976: David Pearson ? Wood Brothers Racing ? No. 21 Mercury
1977: David Pearson ? Wood Brothers Racing ? No. 21 Mercury
1978: Cale Yarborough ? Junior Johnson & Associates ? No. 11 Oldsmobile
1979: David Pearson ? Rod Osterlund Racing ? No. 2 Chevrolet
1980: Terry Labonte ? Billy Hagan ? No. 44 Chevrolet
1981: Neil Bonnett ? Wood Brothers Racing ? No. 21 Ford
1982: Cale Yarborough ? M. C. Anderson Racing ? No. 27 Buick
1983: Bobby Allison ? DiGard Motorsports ? No. 22 Buick
1984: Harry Gant ? Mach 1 Racing ? No. 33 Chevrolet
1985: Bill Elliott ? Melling Racing ? No. 9 Ford
1986: Tim Richmond ? Hendrick Motorsports ? No. 25 Chevrolet
1987: Dale Earnhardt ? Richard Childress Racing ? No. 3 Chevrolet
1988: Bill Elliott ? Melling Racing ? No. 9 Ford
1989: Dale Earnhardt ? Richard Childress Racing ? No. 3 Chevrolet
1990: Dale Earnhardt ? Richard Childress Racing ? No. 3 Chevrolet
1991: Harry Gant ? Leo Jackson Racing ? No. 33 Oldsmobile
1992: Darrell Waltrip ? DarWal, Inc. ? No. 17 Chevrolet
1993: Mark Martin ? Roush Racing ? No. 6 Ford
1994: Bill Elliott ? Junior Johnson & Associates ? No. 11 Ford
1995: Jeff Gordon ? Hendrick Motorsports ? No. 24 Chevrolet
1996: Jeff Gordon ? Hendrick Motorsports ? No. 24 Chevrolet
1997: Jeff Gordon ? Hendrick Motorsports ? No. 24 Chevrolet
1998: Jeff Gordon ? Hendrick Motorsports ? No. 24 Chevrolet
1999: Jeff Burton ? Roush Racing ? No. 99 Ford
2000: Bobby Labonte ?Joe Gibbs Racing ? No. 18 Pontiac
2001: Ward Burton ? Bill Davis Racing ? No. 22 Dodge
2002: Jeff Gordon ? Hendrick Motorsports ? No. 24 Chevrolet
2003: Terry Labonte ? Hendrick Motorsports ? No. 5 Chevrolet
2004: Jimmie Johnson ? Hendrick Motorsports ? No. 48 Chevrolet
2005: Greg Biffle ? Roush Racing ? No. 16 Ford
2006: Greg Biffle ? Roush Racing ? No. 16 Ford
2007: Jeff Gordon ? Hendrick Motorsports ? No. 24 Chevrolet
2008: Kyle Busch ? Joe Gibbs Racing ? No. 18 Toyota
2009: Mark Martin ? Hendrick Motorsports ? No. 5 Chevrolet
2010: Denny Hamlin ? Joe Gibbs Racing ? No. 11 Toyota
2011: Regan Smith ? Furniture Row Racing ? No. 78 Chevrolet
2012: Jimmie Johnson ? Hendrick Motorsports ? No. 48 Chevrolet
2013: Matt Kenseth ? Joe Gibbs Racing ? No. 20 Toyota
2014: Kevin Harvick ? Stewart-Haas Racing ? No. 4 Chevrolet
2015: Carl Edwards ? Joe Gibbs Racing ? No. 19 Toyota
2016: Martin Truex Jr. ? Furniture Row Racing ? No. 78 Toyota
2017: Denny Hamlin ? Joe Gibbs Racing ? No. 11 Toyota
2018: Brad Keselowski ? Team Penske ? No. 2 Ford
2019: Erik Jones ? Joe Gibbs Racing ? No. 20 Toyota
2020: Kevin Harvick ? Stewart-Haas Racing ? No. 4 Ford