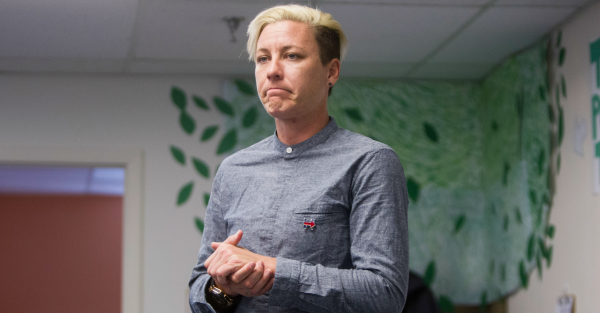 United States soccer legend Abby Wambach has been enjoying her retirement from the game when she made the announcement in December 2015. That was shortly after the U.S. women's team celebrated its World Cup title at the White House.
It seems she might have been enjoying it too much though as she was pulled over Saturday night in Portland for a DUI around 11 p.m. She ran a red light and the police officer who pulled her over "observed signs that she was under the influence of alcohol."
Wambach failed field sobriety tests and was arrested, police said. She was taken to the Central Precinct where she failed a breath test, police said. The police also said that Wambach was completely cooperative and polite throughout the process.
"I take full responsibility for my actions," Wambach said. "This is all on me. I promise that I will do whatever it takes to ensure that my horrible mistake is never repeated. I am so sorry to my family, friends, fans and those that look to follow a better example."
Her mugshot wasn't as bad as some people might have hoped for or are used to seeing with some other professional athletes, but here it is nonetheless.
Wambach is a two-time Olympic gold medalist and FIFA Women's World Cup champion with the U.S. women's national team. She won the U.S. Soccer Athlete of the Year award six times.
[h/t Bro Bible]