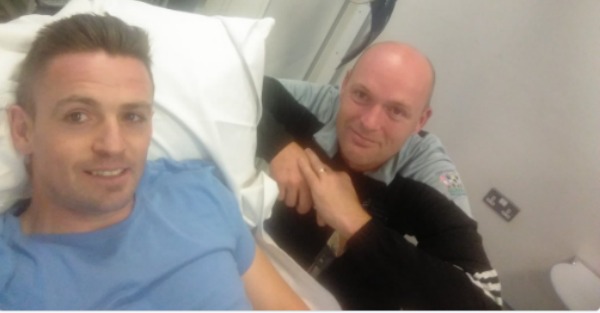 Twitter screenshot
Soccer players, as a whole, aren't really known for their toughness. Especially when you factor in all the theatrics and feigning injury over the slightest bit of contact.
But Irish player Kevin McHugh shattered that image recently.
McHugh, who plays for Finn Harps of Ireland's Premier Division, was taking part in a coaching clinic in his hometown of Donegal when he went chasing after a ball that bounced off the field and over a fence surrounding the park. When he attempted to hop over the fence to track it down, his wedding ring got stuck in the fence while the finger inside pressed onward.
The result was a gruesomely gnarled finger that was just about ripped clean off but somehow remained attached by a thin sliver of flesh.
Most of us would have passed out, but McHugh jumped in his car and drove himself to the hospital—tweeting about it the whole time.
McHugh learned at the hospital he had to have surgery, but never lost his dark sense of humor and continued tweeting updates.