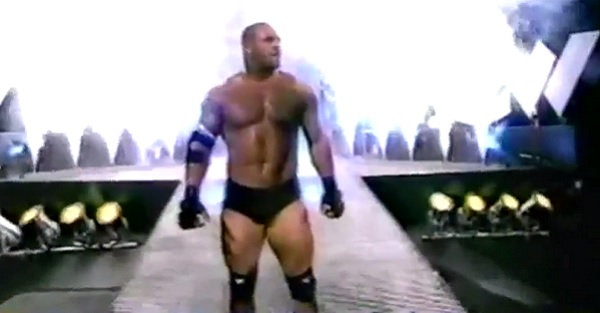 YouTube/Screenshot
Suffice to say, Goldberg didn't become a pro-wrestling star through long, competitive in-ring bouts.
Goldberg was rising up the ranks in WCW by absolutely killing his opponents, finishing most of his matches in about a minute with the spear/jackhammer combo. The dominance of Goldberg helped him get popular, but it also did something else: it hid his major weakness of being unable to do more than just a minute-long match.
Well, on Feb. 9, 1998, we got to see just how much of a weakness that was.
On that date, we got Goldberg vs. Steven Regal — a.k.a. William Regal — in a six-minute match that… well, it was awful. Regal, known for being a stiff worker in the ring, was hitting Goldberg hard with his offense, and the future WCW champ clearly wasn't ready for it. Considering the pattern of all previous Goldberg matches, the crowd clearly wasn't prepared for this either and they didn't like it.
Rumors still persist to this day on what happened. Did Regal go into business for himself? Was he resentful that a poor in-ring talent was getting so much support from the company? Were they actually instructed to have a longer match to try and help Goldberg improve?
Well, the two participants of the match have differing opinions on the matter. Regal said in an interview with Stone Cold Steve Austin that he was instructed to go out there and have a competitive match.
I get there, and I am told by the agent — and Bill is there with the agent in charge — to go out and have a six-minute match. Bill had never done anything more than a 90-second match. And the words were, and we both heard it, "have a competitive match".
A competitive match, of course, would indicate that both men were supposed to get a decent amount of offense in, which just didn't happen in Goldberg matches; he was the destroyer up to that point.
In his autobiography, Goldberg had a different take, blaming Regal for what happened. Via Inquisitr:
I mean, the office didn?t tell him to go out there and try to take advantage of me and beat up a guy who had no idea what the f**k was going on! Dude, ask Steve. I have no idea. I just know he tried to kick my face in a couple of times and I was just giving him my face.
The result of the nightmare match was that Regal was let go from WCW, and he later joined the then-WWF. However, drug and alcohol problems again caught up to Regal in WWF, and he was later released from that promotion as well. Regal has since gotten clean, and he has been a figure with WWE for over a decade.