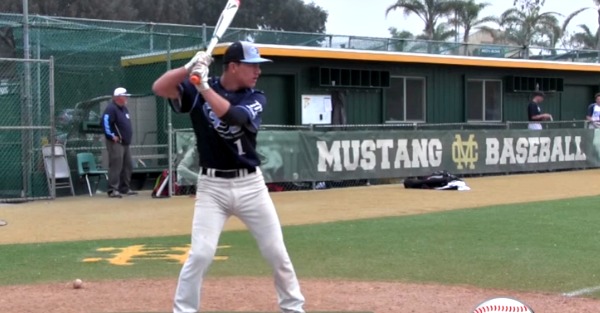 Prospect Pipeline via Youtube
Last week, Jesse Esphorst Jr. hit a 2-run home run in his high school baseball game. Hours later, he was dead, his father badly injured, and now, two people are in custody in connection with the wreck.
Two cars plowed into a van in which Jesse was riding, and the 16-year-old died after being transported to the hospital. His father, Jesse Esphorst, Sr., 47, was driving. While he survived the wreck, the Daily Breeze reported he was very badly injured. He has trouble walking, has a broken nose, his eyes are black-and-blue, and he's taking anti-seizure medication since he's suffering from tremors. He doesn't remember the wreck, but he knows his son is dead.
"His broken heart probably will never mend," Ruth Esphorst, the mother of Jesse Sr. and grandmother to Jesse Jr., said. "I pretty much lost it this morning."
The circumstances, as reported by KTLA-TV, are heartbreaking.
An Audi and Mercedes were involved in a minor crash, and when the Audi fled the scene, the Mercedes gave chase. Both cars ran a red light and plowed into the Esphorst's van. Father and son were returning from a post-game dinner when the wreck happened.
Torrance, Ca. police, in a press release, said that after the crash, the Mercedes stayed at the scene while the Audi fled, and it was found unoccupied a short time later
Tung Ming, 21, the driver of the Mercedes, was booked on suspicion of vehicular manslaughter and released on $50,000 bail, according to the press release. Darryl Hicks, 28, of Los Angeles, the driver of the Audi, was arrested on suspicion of vehicular manslaughter, reckless driving, and felony hit and run, police said. The Breeze reported that formal charges are expected soon.
Baseball America called Esphorst a "standout shortstop." He started for his varsity team as a freshman, batted leadoff and hit .338.  Last summer, he was named the Most Outstanding Player of the Babe Ruth 13-15 World Series. KNBC reported that major college programs were already looking at him.