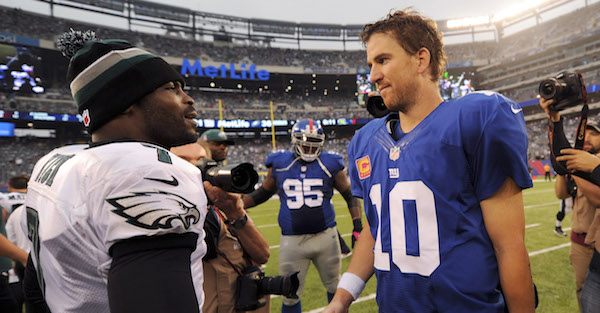 Maddie Meyer/Getty Images
<> at MetLife Stadium on October 6, 2013 in East Rutherford, New Jersey.
Michael Vick's career is officially over, per ESPN:
Drafted No. 1 overall, Michael Vick was part of the Atlanta Falcons resurgence, quickly becoming one of the most dynamic players in NFL history. He led the Falcons to a road playoff win at the Frozen Tundra in Green Bay and helped push Atlanta into perennial contention  (when healthy) with his mix of a cannon for an arm and his shifty running ability.
Vick would miss the 2007 and 2008 seasons as he spent 19 months in prison on a despicable dogfighting conviction.
He would return to the Philadelphia Eagles, where he played sparingly from 2009-2013 before playing one season with the New York Jets and one with the Pittsburgh Steelers.