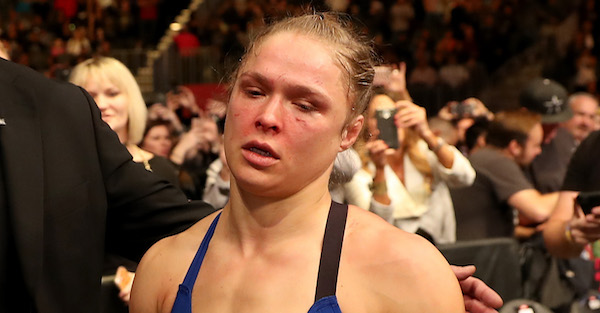 Christian Petersen/Getty Images
LAS VEGAS, NV - DECEMBER 30: Ronda Rousey exits the Octagon after her loss to Amanda Nunes of Brazil in their UFC women's bantamweight championship bout during the UFC 207 event at T-Mobile Arena on December 30, 2016 in Las Vegas, Nevada. (Photo by Christian Petersen/Getty Images)
The past several days have been pretty awful for UFC fighter Ronda Rousey, who was once at the pinnacle of her sport.
Not only was she knocked out in less than 50 seconds, but was also dragged through the mud in a sense by the Women's Bantamweight Champion as well as by other MMA fighters.
And as if that weren't enough, to add insult on top of the insult already added to her injury, on Monday evening, Ronda's Venice Beach home was spray painted by vandals, whose work was indecipherable and did not mention Rousey's loss.
RELATED: Ronda Rousey hints at future following devastating loss at UFC 207
Rousey has yet to address the vandalism or her future in the sport, but published this cryptic Instagram post on Tuesday.