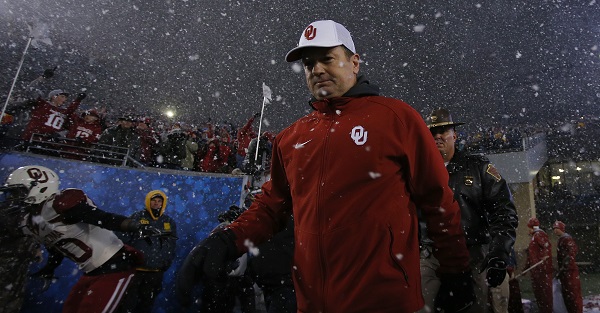 Justin Aller/Getty Images
MORGANTOWN, WV - NOVEMBER 19: Bob Stoops of the Oklahoma Sooners enters the field against the West Virginia Mountaineers on November 19, 2016 at Mountaineer Field in Morgantown, West Virginia. (Photo by Justin K. Aller/Getty Images)
Oklahoma head coach Bob Stoops shocked the college football world on Wednesday as he announced that he would be stepping down from the position that he has held for 18 seasons.
Offensive coordinator Lincoln Riley will be taking over for Stoops.
Speculation shortly went rampant about why Stoops was stepping down, so the head coach quickly released his own statement via Oklahoma Athletics about why he made the decision. In short, Stoops — who is suffering from no health issues — says that he feels that it is time to "hand over the reins" and that he feels that he has "fulfilled [his] purpose her at OU as its head football coach".
Stoops' full statement can be seen below:
?After 18 years at the University of Oklahoma, I've decided to step down as the head football coach. I understand there has been some speculation about my health. My health was not the deciding factor in this decision and I've had no incidents that would prevent me from coaching. I feel the timing is perfect to hand over the reins. The program is in tremendous shape. We have outstanding players and coaches and are poised to make another run at a Big 12 and national championship. We have new state-of-the-art facilities and a great start on next year's recruiting class. The time is now because Lincoln Riley will provide a seamless transition as the new head coach, capitalizing on an excellent staff that is already in place and providing familiarity and confidence for our players. Now is simply the ideal time for me and our program to make this transition.

?The Bible says, "To everything there is a season, and a time to every purpose under the heaven." I'm grateful for this season of my life, and feel I've fulfilled my purpose here at OU as its head football coach.

?I'm thankful that my career at Oklahoma was marked with consistent leadership in President David Boren and Director of Athletics Joe Castiglione. It's extremely rare in college athletics to have no change in these leadership positions over a nearly 20-year span. I always appreciated the way both of them supported me and our program. They both played an enormous role in all our successes.

?I have been very fortunate to have such outstanding coaches in my time at OU. Our players have always benefitted from their strong leadership, on and off the field. I was also blessed with a strong support staff ? strength and conditioning, equipment, sports medicine, academics, video ? every aspect of our program was staffed with very talented people who took a great deal of pride in making Oklahoma football the best.

?I'm especially thankful for being able to coach so many talented young men over my 18 years here. It has been so rewarding to see these players come to OU and mature over a four or five-year career, and not just on the field. To play a small part in their growth is what I will always cherish the most.
None of my success would have happened without the best fans in the country. I can't tell you how much I appreciated the 110 consecutive home sellouts. The passion of our fan base is unmatched, and their support has played a huge role in not only home games, but road games and all 18 of our bowl games, as well.

?Lastly, I'd like to thank my wife, Carol, and my daughter, Mackie, and my sons, Drake and Isaac. They have been a major part of this success. Being the wife or child of a coach is often tough, and they've all been strong through both good times and challenging times.

?The coaching life is like a relay race and I'm thankful for my turn and am confident as I pass the baton. Carol and I intend on staying in Norman ? it is our home. I will be available to Coach Riley and the athletic department in any manner. Thank you all for a lifetime of memories we shared together of 10 conference championships, the 2000 national championship, strong relationships with players and coaches, and the great Oklahoma football fans. Boomer!?
Stoops won a national championship in his 18 year career at Oklahoma, where he posted an absurd 190-48 overall record.