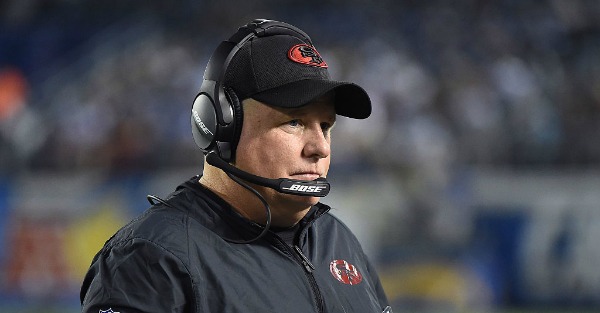 Harry How/Getty Images
during a preseason game at Qualcomm Stadium on September 1, 2016 in San Diego, California.
The idea of Chip Kelly's return to college football was already swirling around last season after his then Philadelphia Eagles sputtered to a 6-10 finish. Now that his new San Francisco 49ers team appears headed for a similar fate, those whispers are growing louder each week.
For now at least, Kelly put those rumors to bed.
Considering the sheer number of high profile college head coaching vacancies either already on the table or destined to be there once the season ends, Kelly's stance is subject to change, though. Programs like LSU, Oregon, Notre Dame, USC, and Penn State certainly seem like attractive options to someone who will have put together back to back dismal campaigns when the 2016 NFL season draws to a close in a couple of months.
Heralded as an offensive genius after his success at Oregon, Kelly's move to the next level hasn't translated. And NFL coaches are beginning to see his ouster as imminent.
"He just keeps running the same s**t and it isn't fooling anybody," one NFL executive told CBS Sports. "Do you think they could bring him back to Oregon?"
RELATED: Several coaches think this coach on the NFL hot seat could be headed to the pros
Kelly's  4-year, $24 million dollar deal, which he signed in January, would seem like a good reason to stay in San Francisco.
But with a record of 1-5, including five straight losses, and little prospect for a turnaround of any sort, that's an option that might not be available to him down the road.