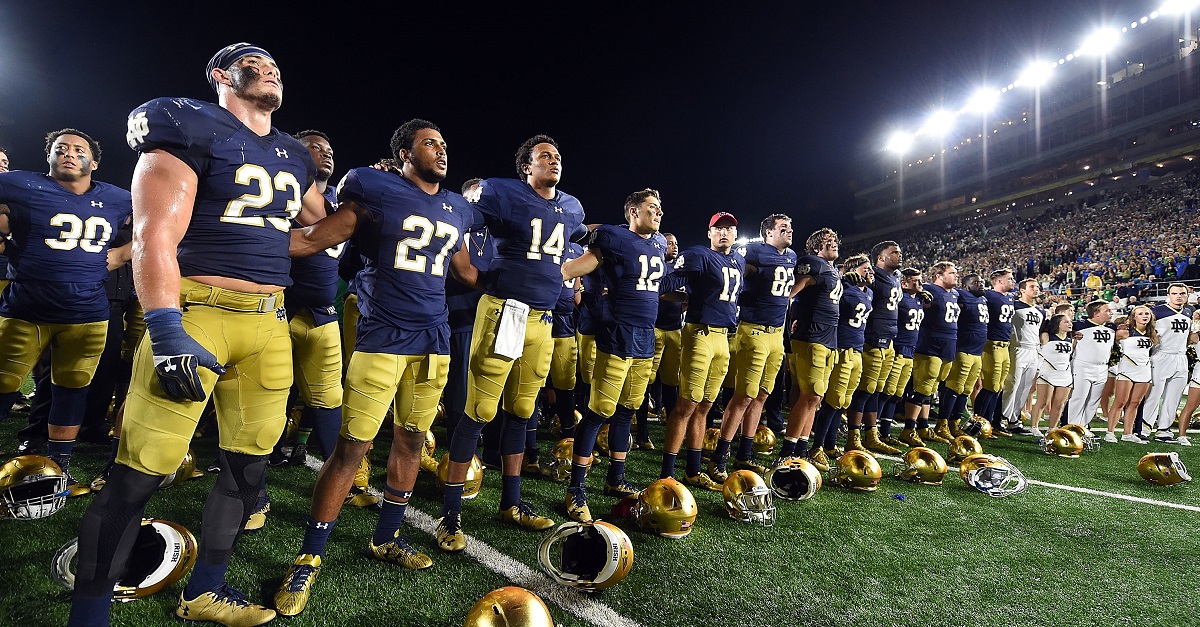 Stacy Revere/Getty Images
SOUTH BEND, IN - SEPTEMBER 17: Members of the Notre Dame Fighting Irish sing the alma mater following a loss to the Michigan State Spartans at Notre Dame Stadium on September 17, 2016 in South Bend, Indiana. Michigan State defeated Notre Dame 36-28. (Photo by Stacy Revere/Getty Images)
Welcome to FPI, where the games are made up and the points don't matter!
ESPN's Football Power Index has garnered a lot of criticism over the past couple of years, and this week's ratings should prove to you exactly why that happens.
The biggest problems this week? The placements of four teams in particular: Oklahoma, Notre Dame, Houston, and Michigan State.
Despite each of them having two losses, Oklahoma and Notre Dame still maintain lofty spots in FPI. Oklahoma is still No. 11 after being blown out by Ohio State, and Notre Dame is still at No. 21 after losses to Texas and Michigan State.
RELATED: Even after a 52-6 win, Alabama isn?t at the top of ESPN?s FPI rankings
Meanwhile, the Spartans were rewarded with their big win over Notre Dame with… the No. 38 spot in the ratings. Houston sits 10 spots higher at No. 28, but still way below the Sooners — the same Sooners who were No. 1 in FPI last year, even after their loss in the Playoff to Clemson.
You usually expect bias for the powerhouses in human-made rankings, but this much in what is supposed to be computer generated? That must be one faulty algorithm.
The current Top 5 in FPI:
1. Louisville
2. Alabama
3. Ohio State
4. Clemson
5. Michigan