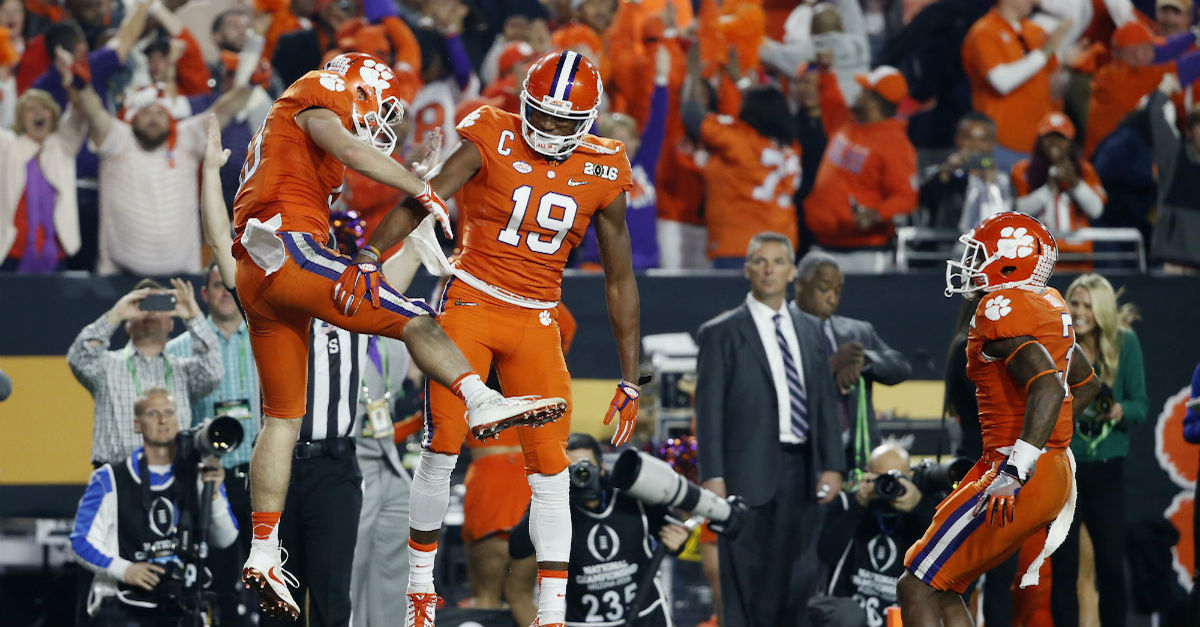 It's been roughly three weeks since the Alabama Crimson Tide won its 11th (16th in Alabama's eyes) national title — a 45-40 victory from University of Phoenix Stadium. The win didn't come easy for the Crimson Tide — the Tigers were able to fight back even when Alabama delivered a seemingly unrecoverable blow. Alabama's largest lead of the night was in the fourth quarter when the Kenyan Drake returned a Clemson kickoff 95 yards for a touchdown to put Alabama up 38-27. Even so, the Tigers were able to score two touchdowns after that. It still wasn't enough to beat the Tide, but many thought the Tigers fought hard and fully deserved to play for a national title, and went toe-to-toe with Nick Saban & Company.
So it's no surprise really, when former Clemson wideout Charone Peake said during an interview with AL.com at the Senior Bowl in Mobile, Ala. that he thought his team actually dominated the Tide in the title game, despite coming out on the losing end.
"We felt like we dominated the game," Peake said. "Those couple two or three plays took over and kinda overshadowed our play. The scoreboard didn't show it but I felt like we dominated the game."
Clemson outgained Alabama by 77 yards, and Clemson quarterback Deshaun Watson's 478 total yards of offense was the most of any quarterback in history during a national title game.
"They really hadn't seen anybody like him," Peake said describing Watson. "We were pretty confident in our o-line. … We came in with a really, really good plan and we executed it."
Whether you agree with Peake or not about who dominated who on that Monday night, I'm sure Alabama fans would have something to say about the wide receiver's comments.