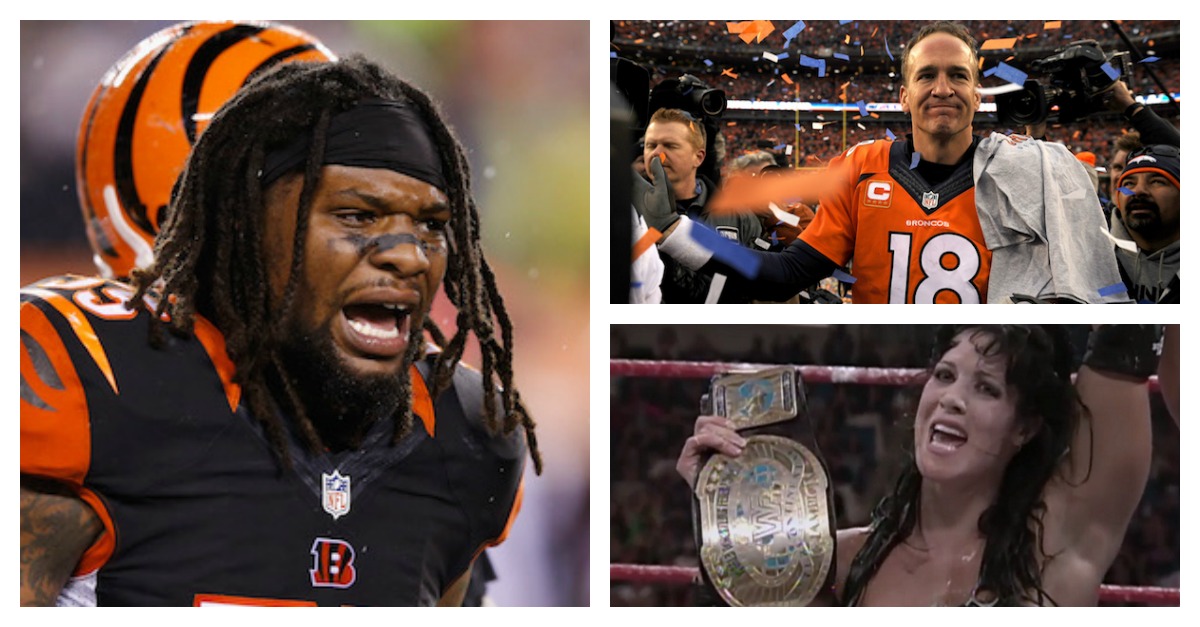 There were a number of amazing stories in sports in 2016. The Chicago Cubs won their first world series in more than a century. Muhammad Ali, the consummate showman and champion boxer, died. Ryan Lochte embarrassed himself and his country when he lied about having a gun held to his head during the Olympics.
But as amazing as those stories were, there were 10 that stood out to the FanBuzz audience. One thing is very clear from the list below — Peyton Manning is very popular. Three of the 10 top stories of 2016 involved for former University of Tennessee great, Super Bowl winning quarterback, and sure-fire NFL Hall of Famer.
In reverse order:
No. 10: With the Super Bowl approaching, the NFL makes a shocking announcement about Peyton Manning.
Just 11 days before the Super Bowl, the NFL announced it would conduct a comprehensive review of allegations raised by the broadcast channel Al Jazeera that Manning used HGH while recovering from shoulder surgery when he played for the Indianapolis Colts. A furious Manning ripped the report, and in July, the NFL cleared him.
No. 9:  This is the job Peyton Manning reportedly wants, and it would set the college football world on fire (link here)
With a just-retired Peyton Manning fresh off a Super Bowl win, speculation started flying about what he could do next. It's not going to happen — right away, anyway.
No. 8 Pissed kid loses a wrestling match to his twin brother, gets even with brutal nut punch
Brotherly love only goes so far, as this angry young wrestler showed. He lost a match against his twin, but instead of a handshake or a hug, he punched him  in a very tender spot.
No. 7 Vontaze Burfict took out Antonio Brown with one of the dirtiest hits we've ever seen
Vontaze Burfict and a dirty hit? Who'da thunk it. This one was particularly bad, so much so that he was suspended three games and even, in a rare show of humility, apologized.
No. 6  Baseball's best fight ever was more like an MMA match when Nolan Ryan beat up Robin Ventura
I think this is baseball's best fight ever because it's not one of those run on the field and stand around fights. Robin Ventura, then a third baseman for the Chicago White Sox, took exception when Nolan Ryan hit him with a pitch. Ventura charged the mound, and Ryan grabbed him in a headlock and beat the snot out of him. Classic.
No. 5. Guy sucker punches a homeless man who happens to be a former NFL player
Some people are just jerks, like anyone who would attack a homeless person for no reason. Only in this case, the homeless person was Chris Brymer, who played football for USC and the Dallas Cowboys. Brymer beat the snot out of his attacker, but the story didn't stop there. Brymer's family believes he's suffering from a brain injury.
No. 4: Miesha Tate choked out Holly Holms in dramatic fashion
Holly Holm was on top of the world. She beat — no, destroyed — Ronda Rousey to win the UFC bantamweight belt, and was the new shiny penny of the sport. It didn't take long for the sheen to wear off. Tate choked out Holms to claim the belt. Of course, Tate would go on to lose to Amanda Nunes, who dominated Ronda Rousey on December 30.
No. 3 How former WWE champion Chyna died will leave you sick to your stomach
She was an icon, although a very troubled one. Joanie Laurer, a.k.a., Chyna, died at the way-to-young age of 45. She had been battling drug issues for a decade, and they finally caught up to her. She died of an accidental overdose, but the other details are heart wrenching. R.I.P.
No. 2  Ahead of Peyton Manning's expected retirement announcement, we remember his funniest SNL skit
This is one of my all-time favorite Saturday Night Live skits. The cool, calm and collected Manning volunteers for a local youth group and proceeds to berate the mercilessly. "I'm sorry, do you want to lose? I throw, you catch. It's not that hard. Now, get the %[email protected]^ out of here."
No. 1 This promo for the Cleveland Browns is the funniest thing you'll see all week
Actually, that headline wasn't quite accurate because it's the funniest thing we saw all year. If you're a Browns fan, you have to have a sense of humor. This parody is as funny as it gets. "Not everything went exactly as planned but no one can deny it was 16 games long!"