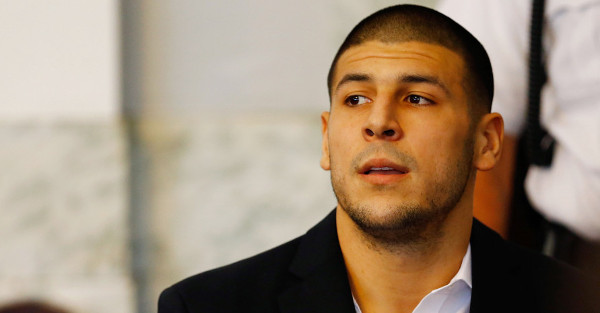 Jared Wickerham/Getty Images
NORTH ATTLEBORO, MA - AUGUST 22: Aaron Hernandez sits in the courtroom of the Attleboro District Court during his hearing on August 22, 2013 in North Attleboro, Massachusetts. Former New England Patriot Aaron Hernandez has been indicted on a first-degree murder charge for the death of Odin Lloyd. (Photo by Jared Wickerham/Getty Images)
New legal documents in the double-murder trial of Aaron Hernandez detailed a stunner from prosecutors, with plans to bring eight potential witnesses to the stand including Patriots offensive coordinator Josh McDaniels, per Boston Herald.
"The Commonwealth alleges the defendant sent a text message to Mr. McDaniels showing him another tattoo that he received at the same time from tattoo artist David Nelson with the letters 'CBS/WBS/IWBTG,'" the motion, filed on Wednesday, states. "According to the Commonwealth, it expects Mr. McDaniels to testify (if called) as to the meaning of those letters."
In a stunning decision, a Massachusetts judge ruled that Aaron Hernandez's tattoos may be used as evidence in the trial over the death of two Boston men in 2012 and the shooting of one reportedly known witness in 2013, per Reuters back in January.
Via Boston Globe, a prosecutor believes Hernandez's tattoos are evidence that he shot and killed two men in Boston in 2012, and shot and wounded a known eyewitness in Florida in 2013.
"One image showed a revolver loaded with five bullets, which allegedly represents the five shots fired at the scene where de Abreu and Furtado were shot to death, Haggan said. The phrase, "god forgives," was tattooed nearby but written backward so it could be read in a mirror.

Authorities allege Hernandez used a .38-caliber revolver to murder the two men.

The tattoo artist also drew a semi-automatic handgun and a spent shell casing and a puff of smoke, Haggan said. The image, the prosecutor said, precisely matches what happened to (one-time friend Alexander) Bradley, who was shot once by a semiautomatic handgun. A single spent shell casing was recovered by Florida authorities at the scene."
Prosecutors say Hernandez gunned down the two men after one of them bumped into him at a Boston nightclub earlier that night. The former tight end has pleaded not guilty. He is set to stand trial Feb. 13 next year.
Raychides Sanches said he had been a passenger in a car stopped at a light in the city's South End when an SUV pulled up. He said someone from the SUV said "What's up, negroes?" and then gunshots began, per ESPN.
Sanches said the gunfire struck 29-year-old Daniel de Abreu and 28-year-old Safiro Furtado.
When Sanches was asked who the shooter was, he nodded towards Hernandez and said it looked like him.
Bradley was reportedly shot in an attempt to silence him.
Hernandez is already serving a life sentence without parole for the murder of Odin Lloyd.
McDaniels will coach in the Super Bowl against the Atlanta Falcons on Sunday.