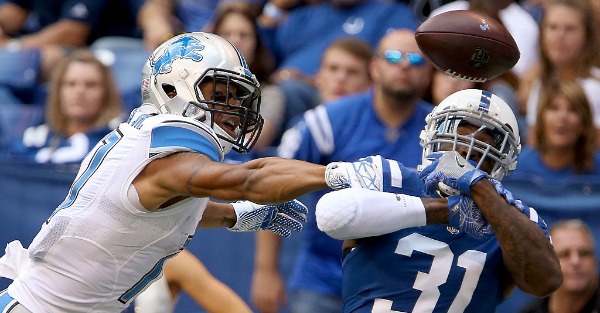 Dylan Buell/Getty Images
INDIANAPOLIS, IN - SEPTEMBER 11: at Lucas Oil Stadium on September 11, 2016 in Indianapolis, Indiana. (Photo by Dylan Buell/Getty Images)
The Colts released cornerback Antonio Cromartie for what the team terms "football reasons," but his wife claims there's another motive — she believes the team let him go because he took a knee during the national anthem.
After Cromartie's wife, Terricka Cromartie, caught wind of Colts owner Jim Irsay's comments suggesting that football stadiums are the "wrong venue" for players to protest the anthem, she wrote a scathing reply on Instagram that mimicked what she thought Irsay was really saying.
"You are Nothing More than an Entertainer. Just Shut and do what we say," Cromartie's post read. "You have No rights as along as you are working for me. There are other places for you to fight and stand for what you believe….One things for sure I know my husband was told Not to take a Knee and he went with his heart and he took one. And that cost him his Job.. and Clearly this Statement backs that up… Just a Paid To put on a show."
When asked about Terricka Cromartie's post, head coach Chuck Pagano called Antonio Cromartie's release Oct. 4 nothing more than a football decision. But Irsay's comments earlier this week regarding his overall feelings about league wide national anthem protests do mirror, it could be argued, Terricka Cromartie's view of the situation.
"It hasn't been a positive thing," Irsay told reporters. "What we all have to be aware of as players, owners, PR people, equipment managers, is when the lights go on we are entertainment. We are being paid to put on a show. There are other places to express yourself.
Cromartie, a four-time all-pro, took a knee before the Chargers game in week 3, and again the following week before the Jacksonville game. He was the team's only player to do so both times.