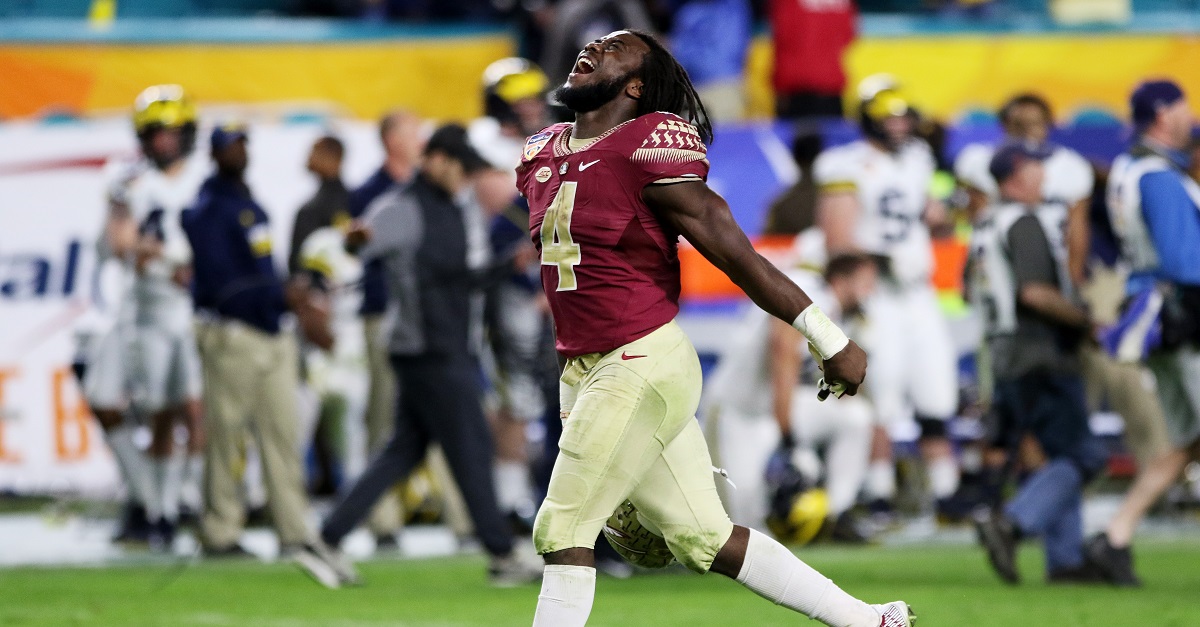 Marc Serota/Getty Images
MIAMI GARDENS, FL - DECEMBER 30: MVP Dalvin Cook #4 of the Florida State Seminoles celebrates their 33 to 32 win over the Michigan Wolverines during the Capitol One Orange Bowl at Sun Life Stadium on December 30, 2016 in Miami Gardens, Florida. (Photo by Marc Serota/Getty Images)
As Joe Mixon starts to rise up draft boards and Dalvin Cook starts to fall, this is an interesting statement to hear from Bleacher Report's Matt Miller.
Miller made the comment on a Bleacher Report Facebook video (around the 10:30 mark), stating that teams are more comfortable with Mixon's off-the-field issues over Cook's.
Mixon has been under fire ever since the video of him striking a woman in the face back in 2014 was publicly released after the 2016 season. The incident, which caused several facial fractures in the woman's face, had initially caused Mixon to be banned from the Combine and sent his NFL stock dropping at a quick rate.
According to Miller, Cook's issues stem from multiple run-ins with the law over the past several years, dating back to Cook's time in high school. Cook has been charged of crimes several times, but never convicted and he was even fully acquitted of a 2015 misdemeanor assault charge. However, Miller cites a scout saying "the pattern of bad decisions are alarming" for why Cook's draft stock is dropping compared to someone like Mixon.
Cook is still projected to be one of the first running backs taken in the 2017 NFL Draft, but he has fallen far in a few months, as he was once thought to be the best back in the entire Draft.