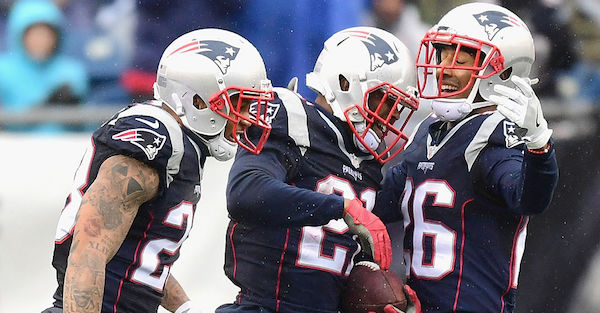 Billie Weiss/Getty Images
FOXBORO, MA - DECEMBER 24: Malcolm Butler #21 of the New England Patriots reacts with Patrick Chung #23 and Logan Ryan #26 after recovering a fumble during the second quarter of a game against the New York Jets at Gillette Stadium on December 24, 2016 in Foxboro, Massachusetts. (Photo by Billie Weiss/Getty Images)
Malcolm Butler has one year left on his contract with the New England Patriots, but he wanted to play with the New Orleans Saints next season.
Related: If Patriots lose one of their best players, they may look to immediately reload with one of the game?s elite
According to Mike Giardi of CSNNE, Butler wanted to be a Saint because he would've made much more money, but the two teams couldn't reach a deal. Butler was a restricted free agent, and the Saints would've had to trade a first-round pick to the Patriots for Butler.
"He wanted to be traded," Giardi said. "He knew what the money was in New Orleans. So when we talk about him, 'Oh he's happy. It's nice that he's joined his teammates again.' He had no other choice."
Since the two teams failed to reach a deal, Butler is back with the Patriots for one year, and he is set to make just under $4 million next season. The Patriots signed cornerback Stephon Gilmore in the offseason to a five-year, $65 million deal, so Butler has the right to be a little disgruntled that he didn't get a big contract.
Butler famously made a game-saving interception to help the Patriots win the Super Bowl against the Seattle Seahawks, and he was the team's top corner during last year's Super Bowl run.
If Butler has another big year, he'll likely earn a big contract from someone. But it has to be difficult to see the Pats sign another corner to a big deal while failing to get a similar deal from someone.
The tandem of Butler and Gilmore will give the Patriots one of the best cornerback duos in the NFL.
(h/t 247Sports)