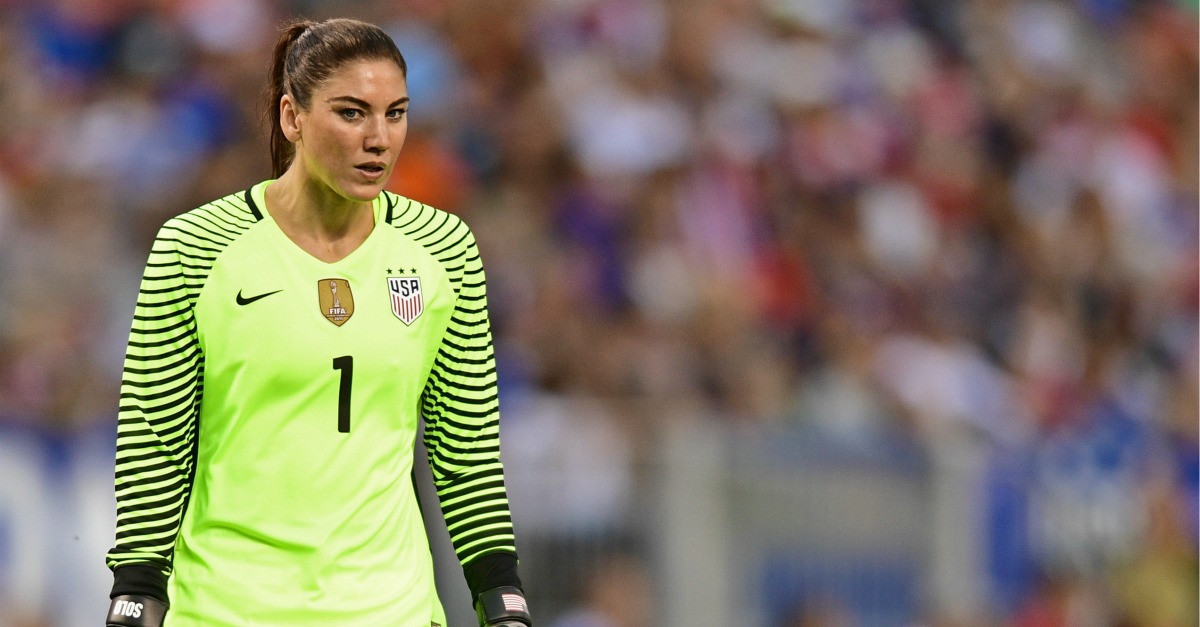 AP Photo/David Dermer
U.S. soccer star Hope Solo will sit on the sidelines for six months following comments she made during the Summer Olympics in Rio de Janeiro.
After the USA lost to Sweden, the goalie referred to her opponents as ?cowards.?
RELATED: These devastating pictures show what?s left behind when the Olympics are over
In her full statement, she said her team played a ?courageous game? and ?showed a lot of heart,? but the ?best team? did not win.
Wednesday, U.S. Soccer terminated Solo's contract and suspended her from the U.S. Women?s National Team for six months, calling her conduct ?counter to the organization?s principles.?
?The comments by Hope Solo after the match against Sweden during the 2016 Olympics were unacceptable and do not meet the standard of conduct we require from our National Team players,? said U.S. Soccer President Sunil Gulati.
?Taking into consideration the past incidents involving Hope, as well as the private conversations we?ve had requiring her to conduct herself in a manner befitting a U.S. National Team member, U.S. Soccer determined this is the appropriate disciplinary action,? Gulati continued.
The two-time Olympic gold medalist was also suspended for 30 days in 2015 for her conduct.
[graphiq id="hxm9zTG8Ifj" title="Hope Solo Olympic Profile" width="600″ height="505″ url="https://w.graphiq.com/w/hxm9zTG8Ifj" link="http://olympians.pointafter.com/l/53858/Hope-Solo" link_text="Hope Solo Olympic Profile | PointAfter" ]
As a result of the new suspension, Solo won?t be eligible for selection to the U.S. Women?s National Team until February of 2017.
Rich Nichols, executive director, USWNT Players Association, called the suspension ?excessive? and wondered if similar action would have been taken against a male player.
In contrast, U.S. swimmer Ryan Lochte — who is embroiled in his own Olympic scandal — has lost sponsors but has not faced sanctions from his sport. There are also rumors he?s been tapped to join the cast of ABC?s ?Dancing with the Stars.?
Some Twitter users pointed out what they feel is a double standard in treatment.
RELATED: Rumor has it one of these Olympic champions may be on season 23 of ?Dancing with the Stars?
Solo tweeted her reaction to the suspension late Thursday, noting she has been dedicated to the national team for 17 years. She wrote that she is ?saddened? by the soccer federation?s decision.