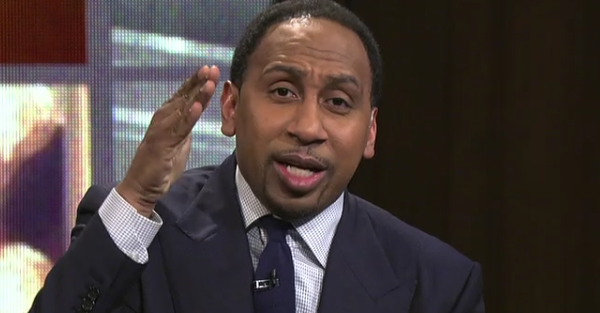 ESPN Screen Shot
The segment starts, "I'll get into my disgust with Phil Jackson in just a second."
And it was downhill from there.
RELATED: Stephen A. Smith got shut down in the most perfect way possible.
Stephen A. Smith, on First Take on ESPN, eviscerated the New York Knicks' President – and echoed sentiments a lot of Knicks fans may be thinking.
He called the organization an "embarrassment," and praised their up-and-coming star,  Kristaps Porzingis, for skipping the season-ending team meetings in a show of frustration.  He ripped into Jackson for a public display of "venom and hostility" against Carmelo Antony, and said the former coaching great is a "disgrace" who needs to "get the hell out of New York  City, big time."
Beware the mouth that roars.