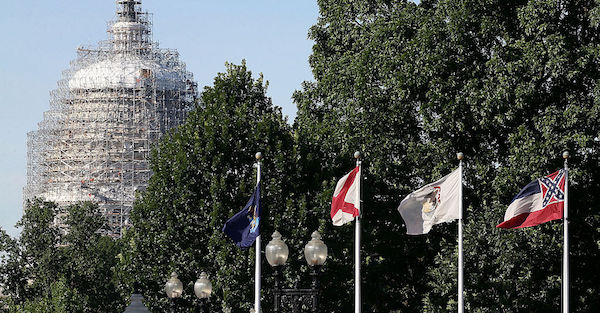 Mark Wilson/Getty Images
WASHINGTON, DC - JUNE 24: The state flag of Mississippi, which incorporates the flag of the Confederate States of America in the top left corner, is displayed with the flags of the other 49 states and territories in front of Union Station near the US Capitol June 24, 2015 in Washington, DC. In the wake of an apparently racist shooting that left nine African Americans dead in Charleston, South Carolina, Gov. Nikki Haley has asked that the confederate flag, also known as the 'Stars and Bars,' be taken down from in front of the state capitol building, adding political pressure to Mississippi to remove the charged symbol from its flag..(Photo by Mark Wilson/Getty Images)
The NAACP is calling for a federal investigation following an incident at Stone County High School in Wiggins, Mississippi.
Related: Virginia Tech fans hung an incredibly insensitive and disgraceful sign ahead of contest with Miami
A black high school student said he was attacked by several white students before football practice on Oct. 13. The white students reportedly placed a noose around the black student's neck and "yanked backward," according to a report at ESPN.com. John Feaster, the football coach at Stone County, told ESPN.com only one individual was involved in the incident — not a group — and that player is no longer with the team.
However, Derrick Johnson, who is the president of the Mississippi chapter of the NAACP, said no disciplinary action has been taken against the students responsible.
The principal at Stone County and representatives from the school district declined to comment, but Feaster told ESPN it's "sad" there are still things like this happening in 2016.
""Trust me. I understand. I?m an African-American male and I was born and raised in Mississippi," Feaster said. "It?s sad that something like this happens in 2016. I just pray we can get it together."
(h/t Complex)