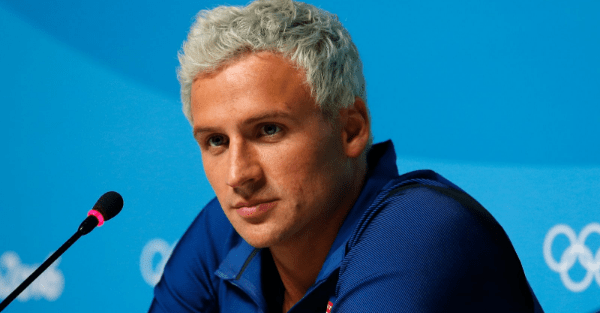 B/R via Twitter Screen Shot
Brazil detained two swimmers and told a third it coudn't leave the country until it further investigates the swimmers' claims they were robbed at gunpoint by fake police officers during the Olympic games in Rio.
All of the swimmers are members of a relay team that included Ryan Lochte, a figure central to growing controversy. Lochte has left Brazil and is back in the United States. But the sitation deteriorated for three of his team mates — Gunnar Bentz, Jack Conger and Jimmy Feigen.
The Washington Tmes, citing the o Globo website, said Conger and Bentz had been arrested and taken to local police to tell them what they knew about a the reported theft.
Lochte ? along with the rest of his relay team ? said they were robbed at gunpoint in Rio early on Sunday morning.
From NBC News:
?We got pulled over, in the taxi, and these guys came out with a badge, a police badge, no lights, no nothing just a police badge and they pulled us over,? Lochte said. ?They pulled out their guns, they told the other swimmers to get down on the ground ? they got down on the ground. I refused, I was like we didn?t do anything wrong, so ? I?m not getting down on the ground.?
According to Daily Mail, authorities are inestigating a possible ?false communication of a crime,? which carries a maximum three-year jail sentence in Brazil.
While Lochte is already out of the country, Jimmy Feigen remains in Brazil. He told USAToday Sports that he's safe, is cooperating with authorities, and just wants to get out of Brazil.
As NBC news pointed out on its Wednesday evening broadcast. this is as much a public relations as it is a potential criminal issue. Rio de Janiero is very sensitive to its crime issues, and Olympic athletes being robbed by fake cops —and gaining tremendous media attention — would be an embarrasment to the country. No doubt, everyone from the judge who issued the order to seize the passports, to the local authorities, want to get to the bottom of this, one way or the other.
Reports originally conflicted on whether Lochte was indeed robbed, and later reports show that the Rio police seriously doubt whether the crime happened. According to Rio police, Lochte and his teammates never reported the crime, and the unit only began investigated after a report from Lochte?s mother indicated that he had been robbed.
In more damning evidence, the Daily Mail has obtained video of Lochte arriving at the athletes? village on Sunday, with at least some of his belongings with him.
A judge in Brazil ordered the swimmers to surrender their passports and cooperate with authorities. So far, Lochte is the only one who is back on U.S. soil.
NBC news reported that Bentz and Conor were being questioned by police in the presence of an attorney and an official from the U.S. Consulate's office.